What is a happy work place for you?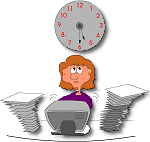 Singapore
March 31, 2008 9:32am CST
How do you define it. How can employers make work place a happy place to work at.... In the recent times there have been few untimely deaths at a work place . Is this any how related to work pressure and the health of the organisation or is it just coincidental.
6 responses

• India
9 Apr 08

I think untimely deaths at work places recently are mostly due to increasing work pressure. With fastly growing technology and competition between people to be the first or best, work pressure is increasing day by day. So happy work place would be a work place where there's healthy competition between co-workers and they are cooperative with each other instead of trying to pull each other down. Like somebody has already said this that they should be friendly with each other as well as mind their own business at the same time.

• Philippines
8 Apr 08
Hi Lyn! For me my work place becomes happy when everyone attends to each task, there is sharing and helping when someone finds difficulty, especially to newcomers, the place is safe, management updates facilities, open-line communication bet. management and the workforce. Accidents sometimes happen because of various factors and management must always give proper solution to the factors so that accidents can be avoided.


• Philippines
8 Apr 08
On my own opinion, a happy workplace is a condition wherein an employee is not stressed out before going to the office or after a day's work. This could be achieved when one's superiors and the management are not so expectant on anyone regarding one's output. If they tend to be "perfectionists", pressure will normally build up in the office and within the workforce. It is also a happy workplace when you can see the employees generating positive output and confidence in themselves. Cooperation and better rapport are by-products of this state. It is when anyone could express himself or herself freely and without stepping on anyone's toes. It can be viewed that everyone is doing their part to make the business successful without anyone telling them to do so. It is also when you could go home peacefully without thinking any problems about officework and being able to separate work life and private personal life.


• Pakistan
1 Apr 08
Happy work place i will try to define it in online if u wake up in morning and are eager to go to work, then its happy work place and if u wake up and reluctant to go to office and feel tense, then its not ideal sitation And sure if u concentrate on ur work, dont get involved in office politics, stop leg pulling, and cooperate with ur colleagues, u would love it Take care