Carlos Santana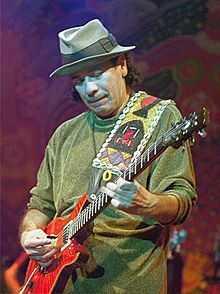 United States
March 31, 2008 3:50pm CST
How could I ever praise this musician highly enough? I often tell myself that I could gladly go into Eternity listening to his music.

It's not often I hear music that touches me so that it makes me want to get up and
move.
This man's music does. It has the power to take me back to a time when I was young, makes me feel sensual and exotic. Have you experienced the music of Carlos Santana? If you haven't, then you should. His band was popular during the late '60s and '70s, and then kind of faded out, only to come back strong during the late '90s to achieve overwhelming success. Some of my favorite tunes by Santana are Black Magic Woman, Smooth, and Europa.
7 responses

• United States
31 Mar 08
I think I like him more now than back in the "day". Every now and then he surfaces with a new song or with another artist, he has so many albums and collaborations! I heard a song yesterday on the radio and I can't think of it for anything right now, but Santana was the guitarist. I can hear where you're coming from on the music - no one does guitar like he does and it does bring on that wanna "sway to the music" thing.

• United States
1 Apr 08
If you've never visited his official site, whittby, you definitely should. I promise you will not want to leave!


• United States
2 Apr 08
I went to the website as suggested and spent way too much time there. There is a lot of stuff to go through there plus I listened to the song track previews. I couldn't get the radio to load, but will try again today when I have more patience to fiddle.

• United States
31 Mar 08
I have listened to his music also. i haven't heard it in a while though. I hardly ever listen to music anymore. I do sometimes though when I have time and I am in the mood for it. I love that kind of music though. It is very mellow and relaxing.


• United States
1 Apr 08
The host of the all-night talk radio show that keeps me up every night is a huge fan and uses his music for bumper music quite often, stephcjh.


• United States
1 Apr 08
I just had to add: What are you thinking, girl? Without music life is gray, with music you see all the colors of the rainbow. It's what keeps me young.



• United States
1 Apr 08
Yes, mummymo, and he just seems to get better with age. I am insanely jealous of his wife.


• United States
31 Mar 08
I love him. I love his old music and some of the new ones that is coming out. He has collaborated with some great artists and is an amazing artist himself. I love that new song out with Chad Kroger, I cant think of the name off the top of my head.. but he is great. Good discussion!

• United States
1 Apr 08
You should visit his official site and listen to some Santana Radio, enchanted leppard! I was there yesterday and lost all track of time.


• United States
31 Mar 08
CS at Woodstock was one of the most amazing musical performances ever captured on film. It is rumored that he took as many as 8 hits of LSD (and that was pure Owlsley for those of you that still get the significance) before he played. Having seen the Woodstock documentary over 10 times, I have to concur. Santana's hands are a blur - almost supernatural.

• United States
1 Apr 08
He is simply the best, Writerbob, in my honest opinion! I've heard a lot of guitarists from different genres, but there really is something special about Santana.


• Canada
3 Apr 08
I love carlos since I was a young girl in the 1970's I loved the album santana abraxus, and I love black magic woman and the instrumental samba pati, I wish I still had it it spoke to my soul.