My hot headed teen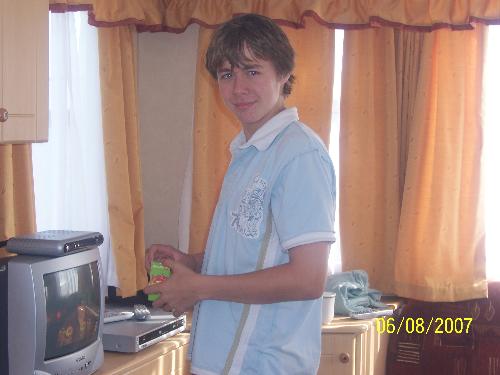 April 11, 2008 7:48am CST
My hot headed teen is 16, he is at the stage where his hormones are racing, and his emotions are all over the place, one minute he is lovely and grown up, the next minute he is aggravating and acting like his 7 year old brother and then he is just like a ball of fire, exploding at anyone that looks at him in the wrong way, and his hot headedness has landed him in trouble again! While at school the other day he had a clash with another boy in the doorway, the boy said something that my son did not like and they had a fight in which my son claimed victory. But alas his victory was short lived, for not far behind was big brother who took most unkindly to seeing my son fight his brother and so decided to lend a hand. At this point the teacher intervened and my son and the boy he had fought with were taken to the office. My son did the mature thing then and apologised to the boy for hitting him and said that he did not mean too but the comments he made were unjust and he lost his temper. So, the matter between them was sorted but the big brother was not as easily appeased and word spread round that this boy and his friends would be waiting for my son outside school, and there was about 7 of them. The teacher brought my son and the other boy together to try to sort the matter, but although the boy said that he would leave it and not do anything, no one believes him. So for his own safety my son was sent home from school and then so far has been allowed to go to lessons late, leave early and leave school early, so avoiding these boys. I do not know what the outcome will be to this, and I will try with all my motherly instincts to protect him as far as I can, but at the same time I am hoping that he has learnt a lesson from this, and that is that you cannot go around just hitting people because they may say or do something to upset you, he has to know that from his actions there are consequences and these are his. I will not let this group of boys get him, not a chance, but at the same time I feel that the scare my son has had may have done him a huge favour. OK, so is anyone else having problems with hot headed teens? Or just teens in general? Are they coping with the changes their bodies are going through or is it turning them into unrecognisable monsters? Have they done silly things because they just do not think before they act? Or maybe you were a troubled teen, what sort of things did you do that landed you in trouble?
6 responses

•
12 May 08
Teenagers Urrghh - it is bad enough with Niall 14, but when my Niamh gets to that stage I think I will have myself admitted to the psychiatric ward! Niall is a good kid , very bright , respectful and helpful usually and held in very high regard at school - he has just been made a prefect! Cut t0 0ur home and Niall thinking someone has looked at him the wrong way , or spoken down to him and it is a different story altogether! He is not violent but boy oh boy does he have tantrums and mood swings - I'm afraid I am a bad mummy and tend to ask him if he has pmt which really doesn't help! He has improved lately, his tantrums are not as regular, do not last as long and he always apologises of his own accord when he has calmed down, I just hope that he is growing out of it and not getting ready to go back to where he was again! How did things work out with your son? I hope all is well - I hate hearing about these groups thinking they are tough going after one person but hopefully as you say your son will have learned a lesson and not be so quick to lose his temper next time! It is such a mixed up , emotional and confusing time for them isn't it - and so much harder for us Mums who have to put up with it! xxx

•
12 May 08
Well, he has never been back to school since all this happened, he just refused point blank said he had had enough of it all. School phoned about it, and I told them what was going on and said I was worried with him starting his GCSE's this month I wanted to talk to someone about it. They said that they understood and would get the head of his year to ring me, they never got back. His English teacher came to see him as he had been picked to display his English work because it was good, she came to the house and my son sat and told her he was not going back. The teacher said she did not blame him because she thought it was appalling the way that he had been treated and all the teachers did. So he has had revision work to do at home and he starts his GCSEs on Wednesday, I am petrified that he will not go in for them, he promises me that he is because he has a place in college and he really wants to go, so I have to trust him on his word, he will be 17 soon so I have to allow him that trust.

•
12 May 08
I can totally understand why you are worried sweety but as you say he is 16 and has to do it - you cannot force him to sit the exams having said that though he has the motivation to go in and actually takes the exams I am sure he will gemini. If he is worried about this gang is there not some way of making sure he is escorted there and back? I am thinking of you and hope that all goes well for him! xxx

• United Kingdom
14 Apr 08
What annoys me in this they can never sort it one to one there always has to be a gang and that makes me angry I see what you are saying he has learned there are consequences but it makes me angry that there is always a Gang I do hope that they will not get him as it is not a fair thing

•
14 Apr 08
I know gabs it annoys me too, who do they think they are deciding that they are just going to gang up on him and get him, of course they do not think that his "mummy" might have something to say about it if she gets her hands on them!!!!

• Bahamas
12 Apr 08
Hi gemini. I call it the terrible teens instead of the terrible twos, my eldest son is going through that faze.He's starting to develope a smart mouth and it's getting on my last nerve he complains about everything and has a short temper.Just yesterday i had to slap him in the mouth for saying something hurtful to his older sister.His dad is not here now and i think he's testing boundries.But he's about to get it because i'm at the end of my rope.

•
12 Apr 08
I like your avatar, it is very you!! I think the worst trait my eldest has is the aggravating of his siblings, he torments them so much I could string him from the ceiling, by his ears, OH he does wind me up. He just does not know when to stop, and then when he gets into trouble he moans like mad that everyone is against him. They certainly know what buttons to push.

• United States
11 Apr 08
Having two boys, I hear where you're coming from. My oldest, who is now 19, never really gave me much in the way of "attitude". But my youngest, who is..... you guessed it, 16, is a completely different story. He can pop off with his attitude over the littlest things in the blink of an eye. The next minute, he's just fine. I attribute it to hormones and the stress they are under from schools now. I have to admit, Things have definitely changed alot since I was in school. So much more is expected of them in school now. I was talking to my younger son's girlfriend last nite on yahoo messenger, and we were talking about the "sophomore projects" that the kids are working on. It's not enough that the kids are pushed harder on subjects in school, but now they have added things like mandatory "projects" that they have to do in groups. They don't get to choose their group, the school chooses for them. They are stuck with whoever the school chooses, and they have to do these every year, or they cannot graduate. According to my son's girlfriend, the sophomore projects are mainly graded by the biology teacher. She's pretty tough, and even my son's girlfriend who is a good student is concerned about the grade she will get. I think I would be kind of moody too! Mix that stress in with the raging hormones and peer pressure, and tadaa.... you have a teen ready to fly off the handle at any given moment.

•
12 Apr 08
You are right, they are under a lot of pressure with everything, and my lad has got his big exams coming up next month after which he will leave school for good. He has recently joined a gym and so is going there a couple of times a week, which I am hoping will help him relieve some of his stress.

• United States
11 Apr 08
I know what you're talking about. I have a 16 year old son. I call him Mr.Attitude. He knows everything. No one can tell him right from wrong. He gets into trouble alot because he can't ignore peoples comments. And its always someones elses fault. But I have seen others pick at him. There was one time I had to go get him from school for misbehaving. Our car broke down and their were kids who were yelling at him(being rude) from passing buses. There wa also an officer that heard all of this also. But there was nothing done to these kids for this action. So I have to wonder is my son telling the truth when he says it wasn't my fault. Kids these days can be so mean and cruel for no real reason. Just to be macho infront of their friends. I have found if you have money then your child is not penalized but if you come from a family with low income you pay. Just my opinion of how it is here. No offense to anyone.

• United States
26 Aug 08
I have a 16 year old daughter and she acts the same way. there is nothing I or my husband can do to please her. One minute she wants to be treated like she is 21 and the next minute she is doing 2 year old things. She does all of the wrong things we have told her not to do. We have tried to talk with her and get her on the right path but she always has a mind of her own. She insists to drive me crazy daily. I think it is the new generation of children. I pity their generation they produce. They have no respect for their elders or parents.