Would you use a disposable mobile phone?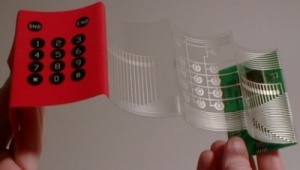 Australia
April 21, 2008 11:40pm CST
''We've printed a phone.'' - Randice-Lisa Altschul In November of 1999 Randice-Lisa "Randi" Altschul was issued a series of patents for the world's first disposable cell phone. Trademarked the Phone-Card-Phone®, the device is the thickness of three credit cards and made from recycled paper products. This is a real cell phone (outgoing messages only) with 60 minutes of calling time and a hands free attachment. You can add more minutes or throw the device away after your calling time is used up. However, with the planned additional magnetic strip the cell phone would double as a credit card, swipeable for purchases with free airtime credits as a bonus. The retail price of the invention should average twenty dollars, with a two or three dollar rebate for returning the phone instead of trashing it. Altschul thought up the invention after being tempted to toss her cell phone out of her car in frustration over a bad connection. She realized cell phones were too expansive to lose or throw away. After clearing the idea with her patent lawyer and making sure no one else had already invented a disposable cell phone, Randi Altschul together with engineer Lee Volte, patented both the disposable cell phone and the super thin technology (STTTM) needed for the Phone-Card-Phone and other intended products. The 2" by 3" cell phone will be manufactured by Altschul's Cliffside Park, New Jersey company, Dieceland Technologies. The entire phone body, touch pad and circuit board will be made of paper substrate. The paper-thin cell phone uses an elongated flexible circuit which will be one piece with the body of the phone, part of the patented STTTM technology. The ultra thin circuitry is made by applying metallic conductive inks to paper. "The circuit itself becomes the body of the unit," Ms. Altschul said. "And it becomes its own built-in tamper-proof system because as soon as you cut it open, you break the circuits and the phone goes dead." - New York TimesThe toy designer with no prior experience in electronics said she developed the phone by surrounding herself with experts who shared her ''conceive-it, believe-it, achieve-it'' attitude. - USA Today "The greatest asset I have over everyone else in that business is my toy mentality," she said. "An engineer's mentality is to make something last, to make it durable. A toy's life span is about an hour, then the kid throws it away. You get it, you play with it and -- boom -- it's gone." - New York Times "I'm going cheap and dumb," she told The Register, revealing: "In monetary terms, I want to be the next Bill Gates." - The Register Randi Altschul's background is in toys and games. Her first invention was the Miami Vice Game, a cops against cocaine dealers game named after the "Miami Vice" television series. Altschul also invented the famous Barbie's 30th Birthday Game, a wearable stuffed toy that allowed a child to make the toy give hugs and an interesting breakfast cereal. The cereal comes in the shape of a monster and dissolves into mush with milk. Altschul has invested much of her past profits into bringing the new STTTM products into fruition. Lee Volte was the senior vice president of research and development at Tyco, the toy making company, before joining up with Randi Altschul and Dieceland Technologies. Altschul and Volte have also created a paper laptop computer, which will sell for twenty dollars and serve as an internet access device. The STTTM technology has opened up the potential for creating countless new electronic products and countless cheaper versions of pre-existing products. If STTTM is all that it seems to be, this technology should be considered a milestone in electronic innovation.
5 responses

• Singapore
29 Sep 08
i definitely will not use it even if i can get one. in fact, i try my best to not use anything disposable. it's just a waste of resources to produce disposable things. i go for things that will last a long time. i may not be able to save the planet, but i hope i'm doing whatever i can. furthermore, i use a mobile phone to make myself contactable. this phone doesn't serve this purpose. it also doesn't allow me to use it as a PDA. cheers ;p


• Philippines
22 Apr 08
Hi coffeshot! I think I do like the idea. I think it is very innovative. Is it already on the production stage or are they still on the drawing board making it more convenient and maybe cheaper for the consumers? But I would sure like to have one and see it for myself. I hope it is affordable for us in this side of the globe. Just my thoughts dear friend. Take care and have a nice day!


•
22 Apr 08
It looks like a good idea as long as it is environmentally safe. It should be made from recycled paper and be safe to dispose or, preferably to be recycable itself. If there is a rebate given when one is returned that would help as I would not like to see the streets and countryside littered with used cell phones. I like the idea that it can be also be used to pay for things. I don't have a cell phone but I might consider carrying one of these for emergency use.

• Philippines
22 Apr 08
I dont think I would use that one if that disposable mobile phone become available in my country. I would prefer to call my family and kids through pay phone... rather than buying a disposable cellphone. The reason why I am using cellphone because I want my family to reach me wherever I go, whenever they want... I dont see the difference of using pay phone and the disposable mobile phone. As you have said, only outgoing is available with that phone... if I am using that disposable mobile phone... how can my family esp my kids reach me? They would wait for my call? In my country, there is such things as prepaid... prepaid load and sim card. meaning we can use our cellphone through incoming calls and messages even if we dont have our load. So, I think it would be better if I would use a regular cellphone. I can buy call card... and load it to my cellphone as soon as I know that I need to call or send message to anyone.