My scary walk when we went to visit our son.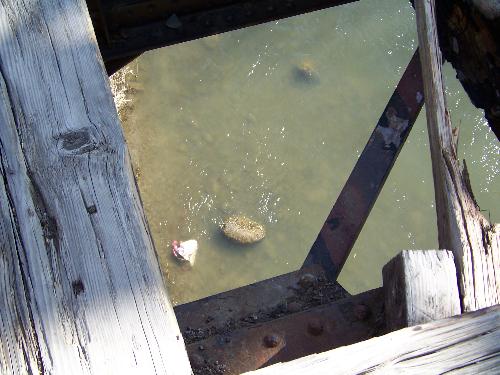 United States
April 29, 2008 11:23pm CST
My husband and I went to visit our son who lived is Fernley NV, which is 35 miles east of Reno NV. The town was build around a train depot and an Indian Reservation. My husband and I took a walk across the Truckee River by his home. We walked over a suspension bridge and looked at a school house which was build in 1832 that is now boarded up. We also walked back across an old train bridge. The train bridge is not being used any longer. The scary part was walking across the boards with my cane it the boards are farther apart then the width of my cane. I was afraid if I put my cane between the slats I would fall down. I got half way across and came upon a large hole in the bridge where the boards had rotted out. I then got scared and decided not to go any further. I was going to stay right on the bridge and they would have to call the rescue squad to come and get me off the bridge. LOL I did get off the bridge on my own steam. I also had enough nerve to take a photo of the hole.
5 responses


• United States
30 Apr 08
It was pretty scarey until I gave Petie to my husband so I could hang on better. Petie was having a ball he just leaped over the holes and did not have a problem at all.


• United States
30 Apr 08
I did OK once I asked my husband to take Petie. Petie was having a ball with all of this. We walked his little legs off but he enjoyed the trip.

• United States
14 May 08
He did not pull on the leash to much. But he was a happy little dog.

• United States
30 Apr 08
I hear ya , I would of been scared as well, I'm afraid of some heights, and that hole is really big. I'm glad you got off the bridge safe and sound.

• United States
22 May 08
For a minute I thought I was going to faint when I saw that whole in the bridge.

• United States
30 Apr 08
Oh my goodness that is scary! You would think they would try to at least patch up that hole. I mean that is a definite weak spot there and more of the bridge could rot away and create even a bigger hole. Glad to hear you're all right and managed to get off the bridge "on your own steam"

• United States
30 Apr 08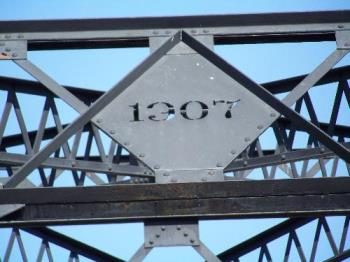 This town is so depressed I can see that the old bridge just going to waiste. I also think that the railroad owns the bridge and they do not use the bridge so why do they want to put money into it. Here is a photo of the iron works that has the date of 1907. This tells me when the bridge was built.

• Garden Grove, California
30 Apr 08
teapotmom I also walk with a cane but have not been on a train bridge since I was about twelve.I am so afraid of heights I do not know what I would have done in your shoes. wow. good for you you did make it back and eventook a photo of the hole. Iam proud of you. at least you are not a sissy like me. you evidently saw a lot of history there too.

• United States
30 Apr 08
I will tell you when it comes to snakes I am the biggest sissy alive. LOL I am a sissy on other things also so we all have our fears. I work with a guy how cannot hardly walk up on a second story because of his fear of hights. LOL We where at the doctors home we work for and up on the second story walkway and my co-worker glued himself to the wall. LOL he would not go out on the balcony. LOL he is a big sissy with that. LOL