Star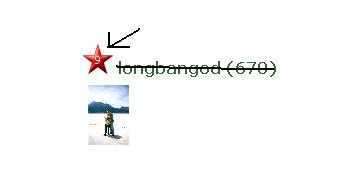 Netherlands
5 responses

• India
15 May 08
You get a star once you cross your hundredth post. They show how good your responses are. People should give you a - for ur responses and thus you get a better rating. I think it used to matter a lot, but now a days there are people who go around giving a negative for nothing and thus people's rating keeps falling. The rating also goes up if you get a best response. HJope that helps.. bourne


• Philippines
15 May 08
Thats right. And thanks for the additional info I got here, I never know that the rating will also goes up when we get a best response. I hope I could get best responses soon...

• India
15 May 08
I got three in a day and my rating shot up from 6 to 7 one go

bourne



• Philippines
15 May 08
Hi May, I think I posted the same topic during my first few days here at myLot. Its like a status, when you reach 100 post you will get your star with the ratings, remember if you get around 8 and yellow star, that means you are good. I only got 5 with green star when I reach 100 post, meaning I'm not as good as other members.


• Netherlands
15 May 08
don't you worry Long. I will give a 10 violet star meaning, you're a good friend of mine... :)

• Philippines
17 May 08

haha, violet star with 10 ratings? Lets go for it!


• Netherlands
17 May 08
Hi Teen, yes it is very tough.... more hectic here than 360..lol..but i enjoyed here a lot.. you don't have to push anybody to comment the discussions you made unlike the other site.. di ba? ;) i am not talking about 360, even it's always acting up there but i am still there and will always stay there... :)

• Delhi, India
17 May 08
HOney, You get a star, once you have completed your hundred (100) posts, right now you are 40 posts away from you first Star, here on mylot. You please continue to post your replies and discussions and you would soon touch the magic figure of your first century. A star shows a member's reputation on the of the scale of 100, higher marks one gets out 100, higher is his star rating. When you take your cursor to any member's Star, you would come to know how much marks does he have on the particular moment out of 100. Colours of a Star changes after roughly 10 marks, e.g. if you have marks between 50-60, you star colour will be different, if you have marks between say 60-70. Highest is the blue star and the second highest is the red star. It shows your repuation, but how it is calculated overall is not known to us. It is only known to mylot, they apply some yardsticks to calculate a member's reputation here. This repuation normally goes up, as the member countiunes to participate in discussions, however, in some cases it is lowered also by mylot. What I gather from my experience is - (i) you need to post quality responses and discussions for gaining a higher reputations. (ii) YOu need to rate each and every response to your discussions and vice versa (more positive rating you receive from others, more would be chances of your higher reputation). (iii)Always be polite and courteous while posting your replies and make counter comments on the replies received, this will help you attain a higher ratings. Best of Luck to you!

• Netherlands
17 May 08
ok, thank you so much for this info..but what do mean by "make counter comments on the replies received".. explain please.. thanks!

• United States
15 May 08
if you wish on the star.....it will take you to a magical land of gumdrops and lolipops where all your dreams will come true.


• Netherlands
15 May 08
hmmmm....magical land of gumdrops and lollipops..is it somewhere over the rainbow?.. ;)...lol..