aquarium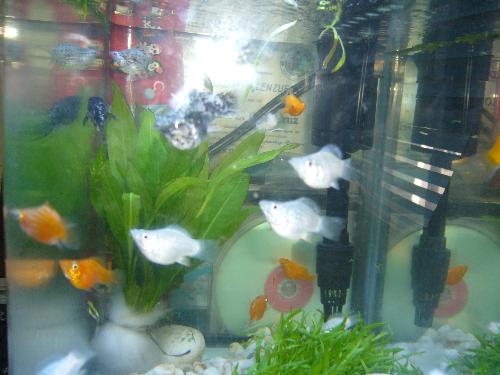 Philippines
May 24, 2008 8:32pm CST
our family acquired a small fish tank a couple of months ago. at first we only had guppies but they died one day at a time. so my husband bought yellow mollies. they're kinda cute with their big bellies and orangy color despite being called yellow. i would've liked to get clown fishes but we cannot maintain a saltwater aquarium. anyway, after only about a week one of the mollies had babies! it was fun to watch the little things wobbly swimming in the tank. my husband said there must've been lots of babies but only few survived. we did some research about mollies and found out that babies are born as fish, not hatched from eggs. and that most mollies sometimes eat their kids. recently, we bought silver mollies too. my two kids are excited about the new addition to the tank. and they enjoy feeding and watching them most times of the day. it's the only pets they can have cause my husband has asthma and we cannot get dogs or cats.
4 responses

• United States
7 Jun 08
You say that it is a small aquarium? How small? Mollies should be in at least a 20 gallon tank, long tanks would be best and put plenty of fine leaved true aquatic plants in for the babies to hide in and also where there will be infusoria for first food for them. It is not unheard of for a female molly to deliver over 50 babies at one time. One of my sayings is Any fish that will fit in another fishes mouth ....................... WILL.

• United States
11 Jun 08
Multiplying 18 times 18 times 12 and dividing that sum by 231 gives a little over 16 gallons. If these are the outside dimensions then it will not hold the full 16 gallons and you also have to subtract for gravel, filter, heater etc which would leave you with maybe 15 gallons and that is really too small for mollies. If it were a long low aquarium that would help but still not be good but I am thinking that it is a tall tank with little air surface ratio.


• Malaysia
12 Jun 08
I had kept small fish in tank in the early days. I understand that how much fun we have when watching those lovely fish swimming relaxingly in the water. Yeah it is really amazing to see the new born babies. I have no idea what guppy and molly are but the fish I kept before was the tiny colorful peacock fish. The babies were born as fish as well. We separated the babies from the adult fish and kept them in another tank to avoid being eaten.

• United States
17 Jul 08
The peacock fish is another name for the guppy. It is also named the million fish because of the ease n their multiplying. Once the females are pregnant, they can give birth to several broods of babies without coming into contact with another male.

• United States
6 Jun 08
I enjoy Mollies, as they are great around children. They enjoy all the attention and like to be at the front of the tank. If you can afford another tank for the babies, then it would help them grow faster and get plenty to eat. Enjoy the fish and sounds like your children are quite excited with the tank.

• Philippines
6 Jun 08
the new silver mollies had babies recently. only 1 survived so far. the first few days, we can still see 3 babies but sadly, they must've been eaten by the other ones. we really should get a separate tank for the babies soon. it's causing heartache for my kids. :(

• United States
25 May 08
i miss having a fish tank set up. i got a 200 gallon tank a few years ago but when we moved we took it down and haven't put it back up yet. we've been talking about getting it put back up soon. i would love to have a salt water tank, you can get some really pretty fish, but i don't know if i could handle the up keep.

• Philippines
25 May 08
yeah i know. that's why we settled for a freshwater setup rather than saltwater. but i do agree that saltwater fish are a lot prettier and more colorful. well, good luck on the setup. i hope you have it done soon. keep me posted. and thanks for your response!