Lightning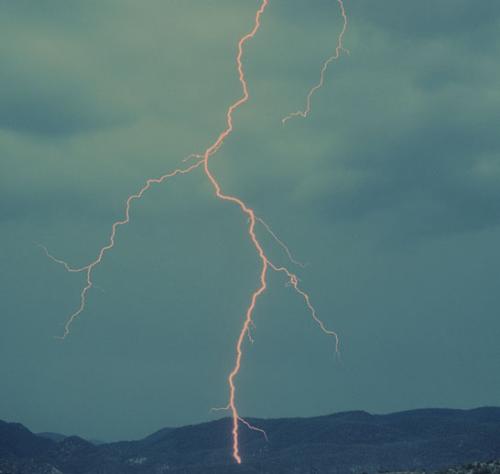 St. Catharines, Ontario
May 26, 2008 5:04pm CST
Lightning is generally referred to as an act of God (mostly by insurance companies who refuse to pay out on these things). Well, this morning there was a short but intense rainstorm in my area. There were a few very loud claps of thunder, and the storm stopped within minutes. That was before 9:30. When I got home from my usual shift at the policing centre, a neighbor told me that lightning had struck the steeple of a nearby church. It's built of stone, so there are chunks of rock scattered all over the church yard, (rather artisticly to my eye, I might add). Anyway, if this was indeed an "act of God", what is the message here? Should we be worried?
7 responses

• Libya
16 Jun 08
I don't think insurance companies mean God as in Church when they call it act of god or force majeure , however if we are to take the insurance company's word for it , then that could mean God wants to attract attention to church , or maybe He wanted to hasten a long overdue repair , or maybe God is angry at something going on in that church (were there any catholic priests and children in there at the time?) Hey I'm not even Christian so who am I to say ?

• St. Catharines, Ontario
16 Jun 08
Hey! You're back! Long time no see! How have you been?

•
3 Jul 08
I think the message here is, put all of our churches underground! They are not safe from the act of god!!! In an unrelated but similar incident, I once knew someone who got struck by lightning whilst playing golf, he was convinced it was aliens or something, but no his designer shoes melted and he was shocked by it. This was a message from god, designer shoes aren't worth the money!!!

• St. Catharines, Ontario
3 Jul 08
Designer shoes definitely aren't worth the money. But maybe the message was to not wear designer shoes while golfing? Maybe the message was Golfing is stupid?

• United States
12 Jun 08
Lightning, definitely doesn't always take the shortest path or the path of least resistance. It acts so fast, plus if a positively charged lightning bolt is dishcnaged its going to find the largest build up of negative electrons and electrons build up around points and peaks. This is why lightning rods are installed. They are there to prevent the lightning strike firstly and to attempt to reroute it in a strike secondly. The lightning rod lets the electrons flow out freely so they do not build up and "attract" lightning.

• St. Catharines, Ontario
12 Jun 08
I always wondered how lightning rods worked...


• United States
26 May 08
It sounds like you are in the UK. i dont know how much lightning you get there but here is Virginia we have a thundeerstorm almost everyday in the summer. I don't mess with lightning. it is scary.

• St. Catharines, Ontario
27 May 08
Actually, I'm in southern Ontario. We get lots of thunderstorms, too.

• India
26 May 08
Insurance Companies live in the past. Well as far as I know, such agents of nature were worshipped as gods in the past and they seem to follow that thought. I do not believe in god, but what you said here explains right. Why would god cause a damage to a church, where people supposedly go seeking Him? bourne


• United States
26 May 08
I could never figure out why any destructive force of nature, be it floods, earthquakes, tornadoes, and yes lightening are referred as "acts of God" as if to insinuate God's wrath and anger and taking it out on us mortals by such "acts"--they are natural forces of nature, nothing more...and yes, I think it's insurance companies trying to get out of any kind of payment to insurers when such destruction does occur...does seem strange though that the church steeple got hit, doesn't it?? Maybe God doesn't like that church..LOL


• St. Catharines, Ontario
26 May 08
God doesn't like that church?... hmm... maybe it was an act of Allah?