entrees, appetizers, and main course

Canada
June 6, 2008 9:30pm CST
I was wondering about restaurant language in the usa, and elsewhere. I just finished 95 articles and a lot had to do with restaurants. What I noticed is that what we call the main course here in Montreal, is often called an entree. for us entree is what comes before, directly from the french entre or come in, or come first, an entree for us is also called an appetizer, it is enterchangeable, for example, a soup can be an entree or a salad or a small sampling of escarot or even chicken wings, it means a sampler, then you would have your main meal like a roast beef with baked potato and vegetables, etc. So what do you call the main meal at the restaurant where you live, and what is an entree for you? what is your favorite main course at a restaurant, what is your favorite entrees, some sampler portion?
10 responses

• United States
7 Jun 08
Always get a salad and they say it comes with the meal. then Shrimp is my favotite thing to order and my grand daughter loves them too So we share.We like to go to one place that is all you can eat but by the time we get done withthe first time we are done and full!

• Canada
7 Jun 08
all you can eat is not the best place for small eaters lol, it is divine for those that love to pig out.


• Australia
8 Jun 08
for me, my entree usually would be soup with garlic bread, the main course can be pork, beef or chicken with vegetables and desert would be fruits or ice-creams... that would be really yum for me... but usually i can't eat that much... my stomach just can't handle it... i usually just have main meal and dessert without entree... take care and have a nice day...

• Canada
8 Jun 08
european portions like we get in montreal are not always big portions like I have seen in the states and other provinces, so I go for the whole deal when I can get it.

• United States
7 Jun 08
new word for me winterose, Thanks for sharing, I have just known main course and dessert...My favorite meal or course is shrimp,rice, squid and vegetables then dessert, I would love mango float as ever!

•
7 Jun 08
A three course meal here in UK would be starter, main meal and then dessert. My favourite starter would probably be Prawn Cocktail or garlic mushrooms or something along those lines. Then for my main unless they had any good specials it would probably be my usual Gammon steak, which is just like a huge thick bacon rasher, with pineapple and chips(fries). I cannot go out for a meal and eat healthy, if I am out for a meal then anything goes. It does not happen often enough for me to be worried about what I eat!

• Canada
7 Jun 08
I have been out and eaten on a diet but I really don't enjoy it while I am eating my salad with lemon or vinegar dressing and everyone else is eating goops of rich salad dressings and any meal they want.

• Canada
7 Jun 08
I think in the other provinces, an entree is a main course that includes one choice of a side dish and they give you choice of salad or soups. Appetizers are called appetizers and are usually like chicken wings and stuff like that although you can include salads and soups. We seldom buy appetizers because the main course, i.e. the entree is big enough. For main courses, I like pasta dishes, rice dishes with salad as an appetizer. If the salad comes before the meal, it is an appetizer, if with it is included in the main course or the entree.

• Canada
7 Jun 08
side dishes would be an alternate name for entree, because it comes before, and appetizers come before the big main course. Quebec takes from haute cuisine and European style dining which is the proper way. I just wrote this in another forum and an american lady wrote the history of how the americans are actually doing it wrong, going back to the 1930's and depression, none of which I had known.

• Nelson Bay, Australia
7 Jun 08
Yes, for me entree is also what comes before the main meal, as in Spanish "entrada". My favourite dishes depend on a number of things, like the veggies which are in season, for example. When asparagus are in season, for example, that would be my favourite, independent of anything else! When it is cold, then a hot soup is usually what I prefer having. I like seafood, especially prawns, so many times that is what I order as main dish. But if I am in a place that serves good spare ribs, then I would probably opt for that, as I love them!

• Canada
7 Jun 08
sounds absolutely wonderful, I would love to join you for a meal as well.

•
7 Jun 08
Here in the Uk it is noramlly, starters, main course and then dessert. Some starters are than big though that they would be enough for me so I tend to just to have a main with no starter or dessert. I think my favourite would be chicken satay or king prawns. Ellie :D

• Canada
7 Jun 08
I have never had king prawn would love to try it though.

• United States
7 Jun 08
don't usually order anentree. alot of places will bring u hot bread, mexican places give you salsa &chips, one good place to eat brings you real good hushpupies.if i'm eating seafod which is my very favorite i pig out on the main course.

• Canada
7 Jun 08
yep the main course is the best for sure, I love Indian or steak myself.

• United States
7 Jun 08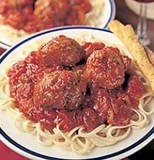 what is your favorite main course at a restaurant, what is your favorite entrees, some sampler portion? My favorite main course is spaghetti and meatballs, which is an entree, if the portion is smaller in the Italian Restaurants that we visit here. We rarely get a sampler portion, but have as our first course soup and bread sticks. If we need leftovers, then we order a pizza to start, as that will mean a complete other meal is already ready for us at home. The last time we did this we had a full big bag of boxes, as they gave us a full box of bread sticks also. They added a large piece of cake for us to share for my birthday.

• Canada
7 Jun 08
his fishmomma, when we order a la carte here, we get soup, salade, main course, coffee or tea and dessert, all for one single price,