Have you ever done that before?

United States
3 responses


• United States
11 Jun 08
Yes. It was just the other day. I have gained a few pounds and I am very embarrassed of my body now. I hate to see myself in a bathing suit. I got out in the pool the other day with my bathing suit on and a t-shirt and shorts over top of it. I finally took my shorts and shirt off and went swimming in my bikini. I was proud that I could get enough courage up to do it. It was only me, my husband and daughter though.

• Philippines
18 Aug 11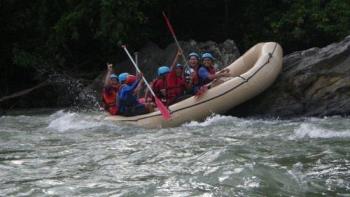 I'm one person who loves comfort zone as much as possible. But sometimes I just have to step out of it because my husband is such a very adventurous person. He would challenge me to try just about any adventurous sport so sometimes I would accept his challenge. The last challenge I accepted is white water rafting. Oh no! I almost back out when I saw the rough water. But there was no turning back though. I had to go with eyes almost teary.

Fortunately, all through the yelling there were reasons to laugh and get thrilled by this very rough kind of water navigation. The rapids almost made me shout very, very loud but we managed and came out alive and all laughing.