What kind of clothes...........

Delhi, India
10 responses

• Israel
15 Jun 08
Hi deepak, to tell you the truth, I am most comfortable when I throw away all my silky and tight fitting clothes and slip into simple light soft half-gown and feel that now I can really breath and enjoy my cup of tea sitting on the sofa watching TV. I am always found of soft materials and better if they are loose and airy.And what about you....share your secret too........


• Delhi, India
16 Jun 08
This is the answer I was looking for.........and you stole the show once again. I always prefer wearing comfortable and less clothes to make myself feel lighter and sensous.........LOL! I just cannot wear tight clothes, it makes me uneasy.

• Delhi, India
16 Jun 08
I fully agree with you that women cannot take the liberty in wearing less clothes or they cannot afford to wear less clothes, specially when they are outside their homes. I have seen many men going for morning walk etc. in simple vests and sorts, without any hestiation or inhibition, but women cannot do so. I sympathise with you on this issue, but there does not appear any viable option.



• Delhi, India
13 Jun 08
Thanks Cupid! It appears no one wants to share secret of looking sensous, so your is the only response I received....LOL!

• United States
13 Jun 08
I honestly have not felt sensuous in years. every since I had my daughter 16 years ago, i just do not feel sexy anymore. I have gained some weight in the past five years also and that does not help the way that I feel or look. My husband still says that I am sexy but I do not think so at all. I don't wear any sensuous clothing because I just do not feel sexy anymore. Sigh.

• Delhi, India
15 Jun 08
Please be 'positive' about yourself, when your hubby assures you that you look sensous, you should agree to him. Beauty lies in the eyes of the beholder and you please do not under-rate of under-estimate yourself, I believe, that you must be looking beautiful and sexy even if you are a mother of 16 years old daughter. Many thanks for sharing.

• China
13 Jun 08
Hello dear dpk. I love to wear casual clothes and jeans and I always wear them most of the time. I feel good when I wear casual clothes and shoes. I love being this way much better.

• India
17 Jun 08
Deepak Feeling sensuous is due to the weather and the season and of course the state of mind you are in. It could be any time and in those times anything you wear makes you sensuous to yourself if not to all. *laughs* Personally speaking, I feel sensuous in body hugging clothes with my lingeries on.

• Delhi, India
17 Jun 08
Many thanks

for sharing your secrets that which kind of clothes make you feel sensuous. I agree with you weather e.f. rainy seasons, can also play a great part in making you feel sensous and of course state of your mind also matters. If you are in a lighter and good mood then only you would think about feeling sensuous and would go for such kind of clothes, which makes you feel happy from inside.


• Philippines
18 Jun 08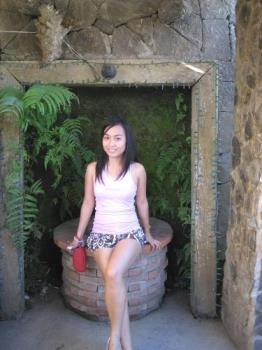 I am a woman who loves to wear shorts and racer back/spaghetti . I think its my trademark. LOL. my legs is my asset so why shouldn't I flaunt it? right? I think I don't want to use the term sensuous, LOL. I just wanted to use gorgeous instead.

• Delhi, India
18 Jun 08
Charly, I appreciate your views that you would like to look gorgeous by revealing your legs, which you consider as your assets. No proble, if you want to use the word gorgeous, instead of sensous, it will do.......LOL! Many thanks for sharing.

• Philippines
4 Aug 08
I wish I can say that I really feel very sensous when i was at my birthday suit though I can't wear them outside my bedroom maybe just with hubby around. LOL Anyway,s I feel sensous when I wear skirts and spagetti strap blouse or even short pants that was fitted to my body. I love showing my body curves even when Im at home.

• Delhi, India
5 Aug 08
You appear very bold and smart and you know how to look sensous. Your hubby must be fleeing glad to see you in your sensous clothes. You know how to attract the attention of others.

Many thanks for sharing your thoughts.

• India
3 Aug 08
I think sensuousness is a state of mind...but since you are asking specifically about clothes....let me think. Hmm...I feel sensous in a sari of soft material...you know the flowy kind in pastel colours. Though I do not feel sensous in tight fitting clothes....well fitted clothes...do make me feel sensuous. Baring any part of my body makes me uncomfortable...not sensuous....but I do feel sexy is jeans and short tops (not exposing any part of my body). At home, I am usually busy with all kinds of work...that it will be a year or two when baby is independant) before anything can make me feel sensuous.

• Delhi, India
3 Oct 08
Thanks for sharing your candid view. I agree with you one need not have to expose any body part to look sensous.

• United States
14 Jun 08
Hello dpk, Anything in my closet that I love to pick that day..LOL, most of the time, my favorite nice blouse and my nice capri!

• Philippines
17 Jun 08
I like wearing one piece clothings, such as a dress or over-sized shirts when I'm home. I think they aren't just sensuous, they are also very comfortable and cute. I also like wearing dressy tops and a pair of jeans. They make one look casual but still very feminine. Have a great day!

• Delhi, India
17 Jun 08
Thanks for sahring but does your over-sized shirts etc. make you feel great/senuous?