How long is your hair?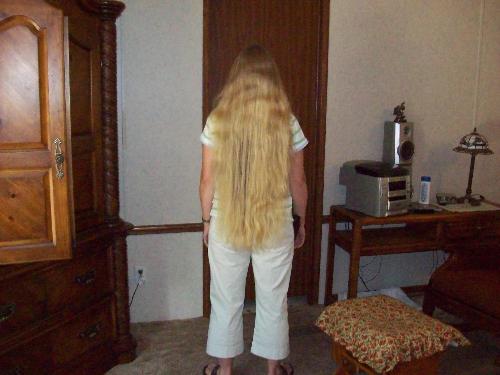 United States
June 14, 2008 12:31pm CST
This is a picture of my 29-year-old daughter that I took this past Tuesday. She promised me that she wouldn't cut her hair until this upcoming Christmas. We think we're going to send this picture to Oprah and see if she can get her hair donated to a charity for making wigs for people with cancer. I would have killed to have like this when I was a kid.
10 responses

• Canada
14 Jun 08
Mine's not quite that long, but I'm going to donate it to a wig place at some point because it's getting really hard to control, especially with the line of work I'm in, I'm outside all day and it's hot and gets tangled too easily.

• Canada
15 Jun 08
My hair is fine too, but I still get very hot. But working outside when it feels like 110+ makes it feel much worse than it is.

•
14 Jun 08
Same here,I was never really allowed to have long hair ,my patrnets thought it looked messy,but sometimes I used to try to let it grow a bit.My kids had long hair when thet were smaller,but it was a heck of a job to handle,they cried each time it was brushed,so they had it trimmed a bit to make life easier.

• United States
15 Jun 08
When I was a kid, I wasn't allowed to have long hair either. My mom said it was just to much trouble and she couldn't stand to see it sticking to my face while we were living in the south. I use to want long hair so bad when I was a little girl that I would put a petticoat on my head and act like it was my hair. I always looked like a little boy. Was I sad or what lol

• United States
24 Jun 08
I also wasn't allowed to have long hair, as my mom got tired of brushing it, and me complaining when it hurt. She cut mine and my sister's short so that we looked like little boys! For that reason, I like having longer hair now, though I would never be able to get it as long as your daughter's! When I was younger I really wanted it that long though.

•
14 Jun 08
Wow what beautiful hair, mine is shoulder length but my daughter had hers this long up until she was about fifteen and then had it cut off but it is still halfway down her back. I think that to donate the hair for wigs is a fantastic idea and so is your cause. Ellie :D

• United States
15 Jun 08
Thank-you, thank-you. I'm pretty proud of my children and as they get older I become prouder of them. I am very proud of this head of hair of my daughters. Normally she wares it in a long braid for work. I don't see it down very often Some years ago we were at a ball field waiting on the game to start. I looked around and saw a woman moving away from us in the crowd. Her hair was so long and so blond it just glowed in the sun. I thought to myself 'What a gorgeous head of hair' Imagine my surprize when the woman turned around and it was my own beautiful daughter. I sat on those bleachers and just puffed up like a proud mother hen lol (you arent an ellie that hangs out in a christian chat room are you?)


• Canada
15 Jun 08
I did comment on the photo. I think her hair is Most Beautiful!!!

• United States
15 Jun 08
Thank-you Gandmaof2, I have seen people with hair longer than hers. And it's beautiful. But I can honestly say I haven't seen a grown woman with my daughters hair color and her hair be that long. I know their out there, I just haven't seen them yet. In this picture her hair looked a little darker than it actually is because it was damp from where she washed it earlier.

• Canada
15 Jun 08
I know a gal from town here in her mid thirties and her hair is half way down the middle part of your legs. It is simply beautiful. I could never support that much hair with all the micranes I get and I also have vertigo.

• United States
1 Jul 08
My whole life I have had long hair and there was oly one time I got my hair , and missed my long hair too much . Right now my hair is just about to my bum . She has lovely hair

It reminds me of Madison from the movie splash . Sorry , if you don't recall the movie.

• United States
24 Jun 08
OMG ! There is no way that I would ever be able to summon up the nerve to cut it ! Although Im sure that it has to be alot of work for her. It is beautiful and I applaude you and her for wanting to donate it. My friend did that a couple of years ago and intends to do it agian once she thinks its long enough :-)

• United States
3 Jul 08
lol, it isn't even my hair and I'm proud as punch. I can understand why she needs to cut it back to a manageable length. It's real hot here in the summer and she works in the electrical dept. and she always has to keep it in a long braid. Not only is it hot. It's real thick and heavy.


• Philippines
7 Jul 08
Wow. That's a nice long hair indeed. I don't know if I could keep it that long as I intend to get rid of split ends every time. I promised myself before that I would let my hair grow to the point that it can cover my boobs. Hehe. So that's how long it is already.


• Singapore
7 Jul 08
wow that is seriously long! it's fortunate that she can keep it so long. My hair is a little frizzy so I'd never be able to keep it so long and in good shape. do let us know how it goes with Ophrah. Over here in my country, there's a once a year even where people volunteer to shave their heads bald to raise funds for cancer patients and also to donate their hair to making wigs. it takes a lot of courage for a lady to go bald, but I know one friend who has done it. in fact her whole family (husband and toddler) did it so that was really cool.