How many pets do you have?

China
June 20, 2008 7:41am CST
How many pets do you have and what types? Do you ever regret ?
10 responses

• United States
20 Jun 08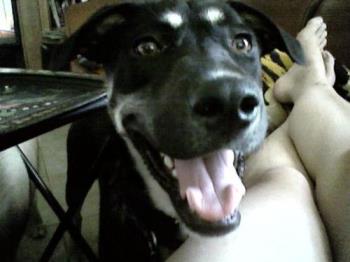 Right now we have 2 dogs (a golden retriever and pitbull mix), 6 cats, 2 birds (a love bird and a mini parrot), and a fish (japanese fighting fish aka Beta). I do not regret having any of these animals. I am very attached to all of them, and love them all. I do have favorites among the cats and dogs, but they don't know that=P lol. My favorite dog is the pitbull mix, Maggie...and I really hope to take her with me when I move out. And my favorite cat is...well My persian=P The other 5 cats are my moms lol.

• China
21 Jun 08
Hello Maggie,hehe~ And thank you all of you for repond

• United States
21 Jun 08
lol, Maggie says hi back...with a s big smile on her face! lol. She's just a happy dog! =P Thanks for the best response.


• Boise, Idaho
21 Jun 08
I have four cats. One is a grey tiger stripe who is about three years old. A female that just had a kitten about foour months ago that we call Chumley. Then their are two long haired males and both are about two years old. One black called Mignight. He is the alfa male. Then there is the grey one we call Smokey.

• United States
21 Jun 08
At the moment we have two chihuahuas, and a german shepherd. We also have 7 cats - plus I feed the neighborhood strays. I'm good at finding homes for pets. I've adopted two myself and I've found homes for three others. Regrets? Sometimes. I'm disabled and its alot of work for me, not to mention expensive. I also miss sometimes having fur free floors. LOL But all the love and pleasure I get from watching them play make up for it.

• United States
21 Jun 08
We only have one pet and that is a dog. She is about 7 years old and her breed is mostly Border Collie with a 1/4 mix of Australian Shepard. She is a great pet and very loving. I think I would like to have a cat as well but my husband is allergic to them. No regrets.

•
20 Jun 08
I have one fish, not sure what type it is as I do not show much interest in them, they are more family pets than my pets. I don't really regret them as I don't have to look after it, my Dad does, but I think that they are a waste of money. All the fish we have bought costing a little bit each mount up and then the fish food on top of that. I can think of many other things that we could have spent the money on, so actually not I come to think of it I think there is some regret there.


• India
20 Jun 08
Hi katherleen, now i have only one pet dog. His name is tomy. I had one eagle we called him Tipu. When i joined the college there were no one to look after my eagle. Then i gave it to my friend. Thanks.

• Norway
20 Jun 08
ah, I have none:( I used to have two cats, and one dog. My live in boyfriend got allergies, and after trying everything we could to evrwin his allergies we recently had to give them away:( I miss them all so much, but gratefully we have contact with their new owners so we recieve updates from time to time on how they`re doing:) "My" dog recently got very ill, the vet had discovered an injury in his eye that could have caused blindness if it hadn`t got discovered when it did. When I heard, my only regret was that I had sold him in the first place, I wanted to ask the new owner if I could trade the dog for the boyfriend, so I could pamper the poor thing, lol