Do you blame the cat/dog for your farts?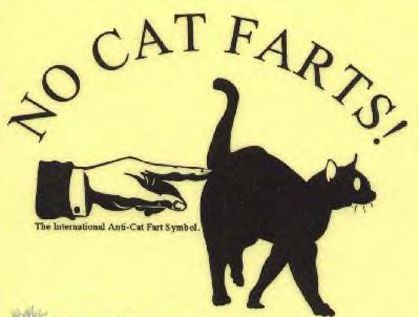 June 21, 2008 2:31pm CST
Recently i invited my elderly mother round for Sunday dinner. She is off advancing years and her sphincter tract is not what it used to be. (my family have a history of sphincter trauma) There was a terrible smell like an year old ostrich egg being wafted about. as we did not have brussel sprouts or cabbage on the plate, we had no choice but to blame the cats for said smell. my wife was disgusted with me as they were innocent and has since referred to me as Sadman Hussan, dictator of chemical warfare. Have you ever blamed something else for a horrid event to spare embarressment to others?
7 responses

• United States
12 Jul 08
Yes I did My last scapegoat was the elevator guy! There was only me and this adorable looking Brad Pitt lookalike and I simply HAD TO fart because I got excited. He asked: "Was that you?". I said :"No I thought it was you!" Thus, the blame fell on the elevator guy.

• Australia
9 Jul 08
LOL. Your poor cats! I'm sure your wife would have been grateful if it were her you were covering for!

•
28 Jun 08
LOL Well sadman at least it was just your mother you were trying to save being embarrased - that is quite sweet really and I am sure that the cats didn't give a toss about being given the blame!I do recall a problem with sphincters in your family - I wonder if my other half is related to you? As for me , I never have to do that because on the rare occasion I have to pass wind it smells of Roses don't you know! lol xxx

• Regina, Saskatchewan
22 Jun 08
To spare embarrassment to others yes. For myself - well I never fart so there's no need! LOL I know, I know, one day I'm going to blow up from containing my natural gas...................ROFL

• United States
22 Jun 08
THats a truly horrible thing to do...those poor animals, so trusting to their human friends. I could never do that to one of my beloved pets. I usually just blame it on my kids.