Want more friends in mylot - anyone interested in becoming my friend?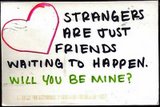 India
10 responses

• Kenya
27 Jun 08
Hey mayka, I am already your friend but that did not disqualify me from responding to this discussion. If you want to make many friends, be friendly to others and respond frequently to discussions in here.

• India
11 Jul 08
Its nice to know that you find my discussions interesting. There is no secret to it. I just write what I like. And I do make it a point to everyone who has put in a reply. That is why I think I keep getting more and more responses. Thanks to all my friends here.

• Australia
25 Jun 08
hi there mayka123 ok send me a friend request as well please you are not greedy and its great to make new friends as well take care happy postings

• Vietnam
25 Jun 08
OK, of course. I also want to make a lot of friends.




• Delhi, India
27 Jun 08
What is your target? How many friends do you wish to add your list or you wish to add as many as possible. Once you are here for a longer period, I am sure, many would send you requests for adding them as your friend. Keep participating in your friends' discussions and vice versa, this will make you feel great here and will encourage to write more posts. Best of Luck!

• Philippines
25 Jun 08
Hi there mayka123! How are you doing here at myLot so far? Well, sure we can be friends. No problem with that. I hope that you will gain more friends here. Good luck and happy posting!

• Malaysia
25 Jun 08
Hi, I am interested to be your friend. You could add me as your friend and I will approve it.



• India
25 Jun 08
Hello mayka123, I am also interested to be your friend. Very happy to here from you. I am josechukkiri from India. I had been some 13 years in Mumbai(Bombay).I wait for your 'Friend Request'.