Do you pay someone to groom your dogs and how much?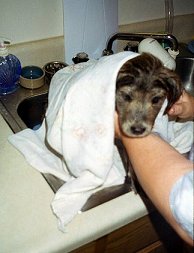 United States
July 8, 2008 3:18pm CST
Hi,I have five dogs and have them groomed by a professional groomer. My two mini-schnauzers get groomed every 7 weeks. They seem to get matted and kind of ugly looking if they don't get their wash and brush that often. They have hairy beards on their face that seem to get everything in them and get all sraggly looking. My other three dogs usually get washed and brushed once in the fall and once in the spring. They seem to keep cleaner and pretty longer than my schnauzers. What about you? Have a great day! Char :-)
4 responses

• Sao Paulo, Brazil
8 Jul 08
Hello, CharRay7! I groom my own dog, me and my mother. I brush him once in a while, but his fur is always looking nice, never too bad. When he takes his bath, he gets a good looking visual! You should see him, he is glad to take bathes regularly. I have a white boxer, 4 years old, who is a medium-sized dog... Respectfully, Munhozmib.

• Sao Paulo, Brazil
13 Jul 08
Nope, he clips his own nails by wasting them in the ground. He usually does it.

• Australia
9 Jul 08
Hi, I breed and show standard schnauzers. My adluts are no longer show dogs - I have 3 babies I need to get ready for the show ring in a month or so. I'm basically wasting time here because I don't feel like grooming. I'm going now though, I'm giving up procratiating Right Now!!! ps comb your minis with a metal comb regularly and you may keep them looking better in between. I've got pharaoh hounds too - they're much easier to groom - brush now and then, and that's about it!

• United States
8 Jul 08
I dont. My dog is shorthaired and I take care of his needs myself. Myfriend works as a dog groomer in home and charges like 100.00 per dog. I think it is 80.00 for cats. I do get my dogs nails trimmed though. I would not be able to do that myself.

• United States
8 Jul 08
Hi, Thanks for your response. $100 a dog!!! WOW! that's alot of money. When I take my 2 mini-schnauzers in to be groomed, they charge me $50 for both and that includes the tip. When I take the other ones for their bath and nails clipped, she charges me between $25 and $30 depending on the size. What does your friend "groom" on a cat? I guess they can be washed but they usually clean themselves unless they get into something obnoxious like a skunk :-) I just wondered what she does for $80. Have great day! Char :-)

• United States
8 Jul 08
My mom takes her dog to the groomers and pays $45. She also will give her baths at home in between goomings.