brush your teeth before having bed coffee

India
July 9, 2008 2:02pm CST
do u brush your teeth before having bed coffee... i dont like having coffee before brushing my teeth... what about you...?
5 responses

• China
9 Jul 08
Good morning, friend. I do not have bed coffee, but I do brush my teeth after getting up and before going to bed. I am used to it. hehe. Thanks.

• Philippines
9 Jul 08
I don't drink coffee. i only dronk milk before brushing because i don't feel comfortable if i'm gonna do it vice versa

• United States
9 Jul 08
It depends...if it is a Sunday, coffee first teeth later, because I hate the taste of coffee after I brush my teeth. During the week...I'm a slave to Caramel Swirl Ice Coffees for my ride to work and I don't even truly like Dunkin' Donuts coffee, but just the same I have to have it. In this case, brush first, drink and then brush again at work. Yes, I'm one of those folks....


• United States
9 Jul 08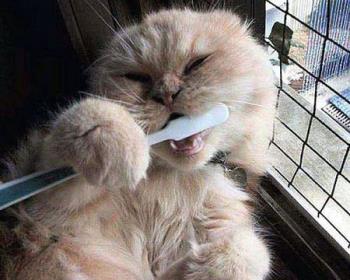 If I am going to be drinking a cup of coffee I would rather brush my teeth afterwards because if I brush them first I will have a minty taste in my mouth which will make my coffee taste funny. And then I would just have to brush my teeth again because coffee can stain your teeth.