Any advice for my new pet frog?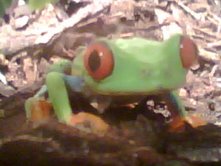 United States
July 13, 2008 8:34am CST
I have been wanting a pet frog for years, and yesterday I finally took the plunge! I got a red-eye tree frog at a Reptile Expo! It looks like I successfully attached a photo of him, if anyone is interested, he's a beauty! Well, as I've been looking for a frog I've been meeting a lot of people who are really into reptiles. I've met guys who feed their reptiles chicken and baby food instead of rats and so on, and their animals thrive on it! But in all my travels, I haven't met any frog experts! What I am hoping is that there is a food alternative to crickets and mealworms? I am prepared to feed him this (obviously I knew that's what he needs to eat), but I'm wondering now if there is some other way? I know its lame, but it makes me REALLY sad to throw crickets into his tank, I hate killing bugs if they are just minding their own business. If anyone has any advice, let me know! Thanks!
4 responses

• United States
14 Jul 08
How did you insert that photo into your discussion? I have never figured out how to do that..

• United States
14 Jul 08
I scrolled down beneath the discussion text box, and there is an area where you can browse your files to insert a photo, so it has to be saved on your computer. There are probably more ways, but that's the one that worked for me!

• United States
15 Jul 08

okay I am lookin...there is nothing below my message box... on to preview, maybe its there... no nothing there either.... hummm any advise?

• United States
15 Jul 08
I don't know, they appear below the new discussion boxes in mine...


• United States
13 Jul 08
Hey SB, try this web site amphibiancare.com They seem to be knowledgable.

• United States
13 Jul 08
Ooh, thanks! If I find anything helpful, I will post it in here (in case anyone is interested from reading this!)

• United States
13 Jul 08
Wow. Do you eat animals that were minding their own business? If so, then I cannot even comprehend your dilemma. I hope you do not plan to feed your frog anything other than what it's body needs.. which is probably other animals...

• United States
13 Jul 08
That's my dilemma exactly, I hope there is something else that frogs can eat that would resolve it! Thanks!