Loves Horses

United States
July 21, 2008 6:27pm CST
My little boy will be 2 in september and he absolutly loves horses and has never even been up close to one. He has to have horse toys, books, shirts, pictures on the walls, he already has a subscription to horse rider and another horse mag. I just can;t get over how much he loves horses and he talks about them all of the time. It is kind of spooky sometimes.
3 responses

• United States
23 Jul 08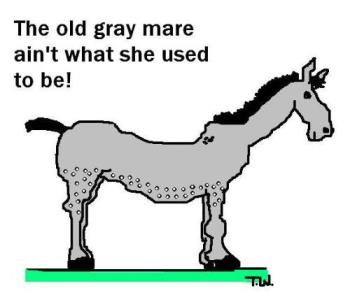 Yes, the horse addiction starts that way for us and it never goes away. I've been in love with horses my whole life and I'm 47 now. I like to think its a good thing though :-)

• United States
22 Jul 08
I was like that with cats when I was his age and with horses years later. If you can afford them, I would suggest letting him take lessons as soon as he is able. I've seen little babies ride horses, though I don't recommend that. Check around with your local stables and see what the age requirements are. I don't think they will take a 2 year old because of liability reasons, but children can start riding at a very young age.

• United States
21 Jul 08
I hear tell that I was totally horse crazy before I was 2, and that was even before I was talking - so you must know I was horse crazy if they knew it all ready. I'm still horse crazy and its been over 50 years. Good luck with your little horse crazy boy!