Have You Ever Had Your Rights Violated?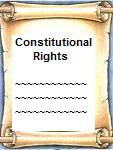 Canada
August 5, 2008 4:19pm CST
Has someone ever violated your human rights? If so, would you give negative feedback or let the person who offended you know that you were mistreated? In case you did let the other person know how you feel, do you think this will make the other person respect your rights? Can you share what was it all about and what you did during that situation? Just Curious,

SFC

3 responses

•
7 Aug 08
Hi Muelitz am not sure if my human rights have been violated but I do speak my mind and if peple disagree with me thats fine everyone has the right to their own opinion but if someone tries to change my opion about whatever the situation or conversation maybe that is when it gets me rattled normally I let them have their say respond to them or just walk away from the situation...the one thing I hate in my life is negativity..your friend littleowl

• United States
6 Aug 08
Only once, I don't know if it was a violation of my "human rights", but it was certainly a violation of my employee rights! I was having a discussion with a male superior, and it was a heated debate (the details of which I won't go into here, because it's ultimately boring). He cut me off mid-sentence with "suck it up, cupcake". The look on my face must have been priceless, because he shut up right away (before effusively apologizing), and my manager, also present, couldn't look either one of us in the eye. I ended up not complaining, it could have really hurt his career (he was a state supervisor, and very new in his position), and ultimately I was ok. But man, did he get a verbal lashing. I explained to him that within the context of our discussion, there was no WAY that could have been taken as a joke, regardless of how he meant it. Pretty small potatoes, but for the most part people don't mess around with me too much. I've been told I have an intimidating presence, I'm not sure how true that is. I like to think I don't get messed with cause I don't mess around with other people.

•
5 Aug 08
Hi Muelitz, That has never happened to me but if it ever happens I sue them for defamation and let them know I've done as well. Tamara