Have anybody ever thought that this Olympic India can win a gold?

India
August 11, 2008 3:15am CST
Tell me frankly, have you thought, irrespective of being indian or not, that India can win a Gold at olympic this year? Frankly speaking, i never dreamt in my dreams that this year we can do it.Abninav Bindra has won it and we are more than happy.Its just awesoem for has. He has made us proud for himself. long live Abhinav!

9 responses

• India
11 Aug 08
Hello,Subha!I don't expect a gold medal for any Indian athlete.at best they can console themselves with one or two bronze medals in some events,but that is also a remote chance.thanx.

• India
13 Aug 08
frankly speaking i am with the cocept that india will bring one gold medal this is because if u consider in 2000 olympics malleswaria got bronze and in 2004 silver and this gold for abhinav bindra india is going with concept one medal for olympics everytime i hope for next time we get all the medals

• India
13 Aug 08
Hi Subha, India did had a few favourites for winning a Medal at this Beijing Olympics. However;it was never a "certainty" . So,Abhinav Bindra's feat is truly worthwhile . If Rajyavardhan SIngh Rathore and Saina Nehwal (who crashed out today ) had also won medals ;it would have been all the better. Now our hopes are pinned on Lee-Hesh (Or Paes-Bhupathi) Duo to win us a medal in Tennis . Let us see what happens.

• India
13 Aug 08
Hey!! Even I never thought that India would win agold... but i was expecting atleast one medal from the shooting department.... And Abhinav Bindra too it one step ahead and brought a Gold... Congrats to him!! To make out country proud...

And hope we get some more medals...


• India
11 Aug 08
Hello subha12 Really it is a nightmare for Indians. After 1980 hockey gold we never seen any gold medal in olympic. I think 2008 Yr is very much auspicious for Indians. Being an Indian I feel proud that atleast a land of 100 crores population have the ability to achieve their goal. This is a splendid job done by Mr Bindra. I on behalf of crores of Indians congratulate Sri Bindra for winning gold medal in the olympic. Frankly speaking It was not expected. pkc3000

• India
11 Aug 08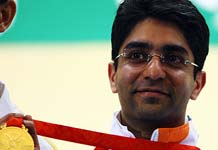 Hi subha, im an indian and im optimistic in my thoughts and eventhough i hadnt dreamt about winning the gold i had a thought that India will make this possible by this year for sure.I dint know my positive thoughts and my prayers have been answered.And yes im so happy that Abhinav the first Indian who has won the gold in shooting.. Great applause to him from my side..May GODbless him a lot.. with all best blessings throughout his life, he made India and Indains smile

• India
11 Aug 08
Yes, ofcourse you are right.. Even though we are not espect, this is because of the existing participants from india was disappoint us very badly. This year, Abhinav has given the sweet news.. We will be very proud to be a indian, this total credit goes to Abhinav only, he has got this Gold medal behalf of 100 crores indian.. Every one of us should be very proud about him..

• Pakistan
11 Aug 08
CONGRATS DEAR... A moment to be proud...A dream come true , of all INDIANS