Favorite Fruit, mixed or alone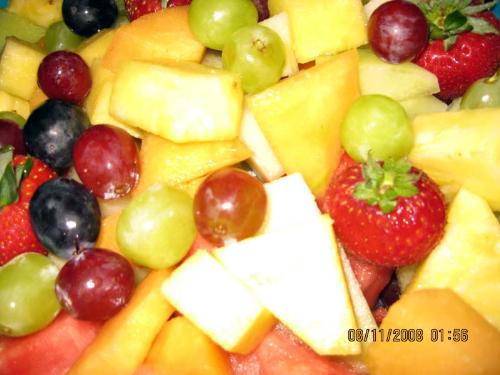 United States
August 14, 2008 11:21pm CST
What is your favorite fruit? Do you like to eat a variety of fruits at once like in a fruit salad or do you prefer to eat just one kind of fruit at a time?

5 responses

• United States
16 Aug 08
I do enjoy having the mixed fruit more better then the fruit alone. With the grapes, pine apple, cantelope and so on.

•
16 Aug 08
My favourite fruits are melon, mango, bananas, peaches, plums and strawberries. I sually eat them seperate but I do like fruit salads. At my local supermarket they sell different kinds of melon cut up in a plastic tub. You get watermelon, cataloupe and honey dew.


• United States
15 Aug 08
I don't think there is a fruit that I don't like. To me they are all good. whether they are together or alone. Fruit is just good period. Now a fruit salad would have to have everything in it. The pic that you have looks good. And it's just a picture. Have a good one.

• Australia
15 Aug 08
For fruit salad I always make my own, usually when you by them they have grapes in them...yuk!! My favourite fruits to eat are mandarins, watermelon & green apples. Sadly, I do not eat nearly enough fruit, hopefully that changes soon.

• United States
15 Aug 08
The new seedless watermelons have made eating watermelon a lot easier these days. During the seasons that watermelon is readily available I buy watermelon at least once a week. There is plenty of it to go around and lasts a couple of days in the fridge. It is nice to have it on hand and easy to eat. Apples are super easy to enjoy any time. I get my mandarines from a can, I love to eat them with cottage cheese.