Never ending work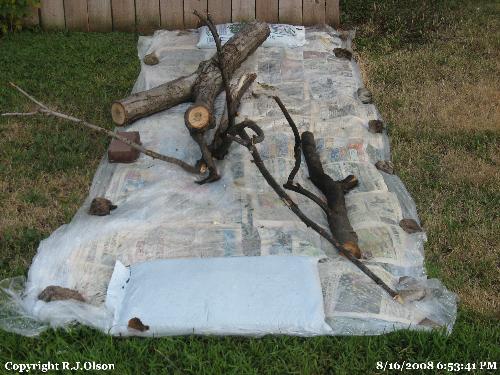 United States
August 16, 2008 7:24pm CST
Well I have been at it again. This time I am preparing two areas for future garden plots for next year. This area pictured will be the new area I will have my cucumbers and pickiling cucumbers next year. It will be roughly 4 foot by 15 feet. I will get a lot of cuckes planted in this area on stakes and or poles. Wet newspaper under the weighted down tarp will decompose over the fall and winter months adding nutrients etc to the soil. The weeds and or grass will all die off as well making it easier to till and or dig it up next spring. The area that had my cukes before will become my new Lily bed this fall before the ground freezes. So that is why I am doing this work early. Do you plan or layout a plot for yopur gardening areas this early? Do you just dig and plant? Do you have a set area for each plant also? HAPPY POSTINGS FROM GRANDPA BOB !!`
7 responses

• United States
17 Aug 08
I think it's great that you're planning ahead and know what you want to do with things. I can't do that because I won't be here in this home, but hope to be in my own home long before it's time to start thinking about gardening again.

• United States
17 Aug 08
Well we will be here till we die I feel. Only owned the house 6 years comes October. So I can tear up any area I want. HAHAHAHA! Bob the Builder as some of the small kids in the neighborhood call me. HAPPY POSTINGS FROM GRANDPA BOB !!~

• United States
17 Aug 08
Is it better to dig up the ground before next year? My yard is all grass right now. I know where I want things to go now, but wasn't sure if I should dig now or wait till spring. You're a very busy man!

• United States
17 Aug 08
I am looking around at what I want to do. I need to tarp up some area that has been untouched this year and is just a mess. I think I want to do a permanent planting in at least part of it. I want to plant blueberries. One of my catalogs has a great selection that would give me two months worth of berries. I am not as ambitious as you are, yet.

• United States
17 Aug 08
I also want some blueberries. But the space and time is limited right now. I jhave so many red rasberry bushes this year. Maybe a couple years from now I'll add blueberries in the back behind the garage. HAPPY POSTINGS FROM GRANDPA BOB !!~

• United States
17 Aug 08
Great plan!! I am envious that you have that much land! I have a small backyard and we do container planting on both sides of the house. We are putting in three raised beds in the backyard 3x6. I am also going to do several tire "beds" for potatoes, radishes, and carrots. With so little space we have to plan ahead. But the joy of living in FL is yearround gardening.

• United States
17 Aug 08
Hi Grandpa B,
This is a great idea..I might be doing that also..We work out the area 2 weeks before we started our garden this year and never thought that it is very healthy for the plants...It was stressful though but I love harvesting now..Thanks for the tip about newspaper stuff!




• United States
21 Aug 08
hi grandpa bob...i've never seen that done before. you have it down to a science. you have a gift combined with experience that is remarkable. i kill plants. i get good advice from people with a green thumb and i kill plants. but i'm good at buying already grown plants, flowers and produce. i am real good at that. :D

• United States
20 Aug 08
Maybe when I retire I can do something like this. But that is still at least fifteen years from now. But that is a great idea of putting the wet newspaper down with a weighted down tarp to prepare for next year. I may think about doing that, and plant a few plants next year in the plot instead of the pails I planted this year.