Cross your fingers that Fay stays AWAY!

United States
August 16, 2008 10:57pm CST
As some of you know SwtJenLove and I live in south central Florida so we've been keeping an eye on Tropical Storm Fay who's planning to bring us some weather by Monday night and into Tuesday. Whether Fay will be a tropical storm or a hurricane by the time she reaches us won't be known until after she crosses over Cuba and interacts with warm water again. Her exact track won't be known until probably tomorrow night or sometime on Monday. So, today we began our hurricane preparations. Jen and I picked up some last minute things at the store while the guys made sure both yards were free of anything that could blow around. Tomorrow I have to fill up my truck, get some cash from the bank and get one of the extra propane tanks for the grill filled. The patio furniture, riding mower and the kids' riding toys will be put away in the garage and the grill will be strapped to the deck railing. The bike trailer will be strapped to the boat's trailer so it doesn't go anywhere. We have no idea who has our big cooler so locating that will be my husband's job on Monday...it's a popular loaner so one of the relatives has it. My grandson starts school on Monday but they'll probably close on Tuesday if the weather's bad. I expect we'll be doing a lot of storm prep at work on Monday and close on Tuesday, too. We have three storm plans depending on the storm's track and intensity; we all ride it out here (we're good for wind speeds up to 120mph), ride it out at my brother-in-law's business which is in a concrete building in town, or head to the opposite coast and ride it out in a motel. So, keep your fingers crossed that Fay doesn't turn into a big monster. I'd never wish bad weather on anyone else so I'm not going to wish for her to head in another direction, just for her to fizzle out in the middle of the Gulf somewhere. If you don't see SwtJenLove or me posting for a few days...we lost power.

7 responses

• United States
17 Aug 08

I just posted something about that as well. my discussion wasnt as good as this one tho.


• United States
17 Aug 08
I'll have to look for it tomorrow cause I gotta go to bed. I was just waiting for midnight so I could beep your sister and wish her a happy birthday. You should call her...she's still up.


• United States
17 Aug 08

I also posted something about sierra and you looking alike when you were a baby so if you get a chance.. look at that one too. I called melissa too. Thanks for reminding me! Alright check out my tropical storm fay post too

• United States
17 Aug 08
I hope it fizzles out also! I always hate hearing about the hurricanes and storms hitting people. My husband saw the damange first hand while he was in the Army and went to Florida after Andrew I believe it was, not he sees it often because he goes to put power lines back up after storms. Some of the stuff he's talked about and sent me pictures of is awful. I hope you all and everyone else stays safe!

• United States
18 Aug 08
Thanks sunnflr. Andrew was a very large and strong storm and, fortunately, I was still up north and nowhere near that one! This one is still expected to become a Cat 1 but the track may change, bringing it more inland which could be good or bad for us. If it moves far enough to the right we won't get the strongest winds, which are on the right hand side of the storm...or we could get stronger than initially anticipated. So, right now we're just waiting and watching. It's business as usual here at work but but my boss mentioned something about maybe disconnecting and covering our equipment tomorrow...

...and I've got news for her...I'm not going to be here tomorrow if the weather is bad! They don't pay me enough to be out in a hurricane.

• United States
17 Aug 08
You are definately in my prayers. I also have family in various parts of Florida, and am also praying for them. Good luck and stay safe!

• United States
17 Aug 08
Thanks Barbietre, safety is No. 1 on our list, that's why we prepare for the worst and pray for the best. We're pretty much ready except for putting away the deck furviture...we want to use it this evening for awhile.

• United States
17 Aug 08
Hey spalladino, I am hoping that all goes well and Fay passes you by quietly. I don't know exactly where in Florida you are. My Mom lives in Tamarac, Ft. Lauderdale. I'm not really good with directions so I'm not sure if you live anywhere near that. One of my closest girlfriends lives in Deerfield Beach and one of my other friends lives in Tampa. I know he's on the opposite side altogether. I know how unsettling it is to have to go through hurricane season there and you have a long way to go. I was down there about 8 years ago and was leaving the morning of a Hurricane Debbie and thankfully it never really hit like they planned and I was able to get out. I know that no matter how many times you prepare over and over it still is unnerving to have to keep doing it and never knowing which one is going to hit and how bad it will be. My Mom's been down there for over 25 years now and I don't think she'll ever get used to it. She's alone now so that makes it much more difficult. So I'll be praying for you guys that every thing turns out ok. Will be listening to the weather up here to see what's going on. Take care, Opal

• United States
17 Aug 08
Thanks for the good thoughts Opal. If you look at a map of Florida, we're on the left hand side of Lake Okeechobee, that giant lake that can be seen from space, so we're basically in the center of the state, towards the south. I've been to Tamarac and Lauderdale, they're about two hours from us and I've also been to Deerfield Beach. It looks like the storm is going to track up the weatern side of the state, along the Gulf coast, so your mom should be fine. We've been fortunate for the past two years but that's why we prepare and have insurance. It's never fun, that's for sure!


• United States
17 Aug 08
Oh Lordy, how I hate hurricane season. We live in Tampa, stationed at MacDill AFB -we live on the base actually. I just looked at the forecast chart, and right now it's heading straight at us by Tuesday night. Even if it changes course, we'll probably be evacuated - the base is on a tiny peninsula of its own, so they always evacuate if a hurricane even THINKS about coming close. The only good thing about that is when they force us to move, we get a per diem. Last time we had to evacuate was for Charlie (my first hurricane) in 04, and we made 400 dollars. All the same, I hope Fay stays away! I can't handle losing power - I like my air conditioning! When Frances knocked out our power for three days, I was 6 months pregnant with my son and in preterm labor - NOT FUN. At least this time I'm not pregnant, lol. Stay away Fay!

• United States
17 Aug 08
The latest track still has it eventually coming your way so I guess you will be evacuating again. That's great that they help you with the expense...wish someone whould help us.

We moved to Florida right after Charlie came through...in fact our four year annivesary of moving down here in the 19th. When three more storms hit us I was wondering if Florida was sending me a message! We also lost power for 3 days after Frances but it was in October so it wasn't as hot as it is right now. I sure don't want to spend days without A/C in this heat! We'll have to go to the beach if that happens.


• United States
21 Aug 08

Well she didnt stay away.. matter of fact she likes it to much here she wants to take a tour of the whole state! Boy is she greedy!! lol.



• United States
19 Aug 08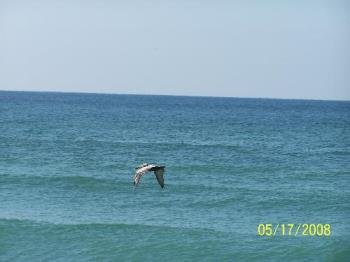 My thoughts are with you and I hope that things are okay where you are. My thoughts and prayers go out to you during this storm. May the sea stay calm and harm no one.