Another Great Picking Today

United States
August 23, 2008 4:02pm CST
Well it is Saturday afternoon and I am done with the gardening except for watering everything. I got a dozen tomatoes, about 40 Grape tomatoes, some green beans, some cucumbers, about 25 pickles, and a couple zuchinni as well as 10 more ears of corn. No photo today as I was in a rush and cleaned and froze a lot. Now the pickling starts. (again) HAPPY POSTINGS FROM GRANDPA BOB !!~
11 responses

• United States
23 Aug 08
Sounds great Bob - I took it easy today after putting up 13 quarts of tomato sauce yesterday. I froze 7 heads of cabbage and made a big bowl of cole slaw. I also just went out to take a picture of something else and picked a big pile of cherry tomatoes to 'munch on' while doing some computer work :)

• United States
23 Aug 08
Hmmm? Do you ever make cabbage rolls? I am craving some homegrown cabbage now. Thanks a lot. HAHAHA! Lots of food and work for you it seems. GREAT WORK! Watch that juice dripping from those tomatoes. HAPPY POSTINGS FROM GRANDPA BOB !!~

• United States
23 Aug 08
Cabbage rolls? Glumpkies with burger and rice inside, tomato sause? I love those and didn't even think about making some and I think you can freeze them to thaw and eat later - I still have more cabbage so may have to check into that - great idea thanks bunches :)

• United States
24 Aug 08
Yeah but I call them cabbage rolls as they are rolled up after stuffed with the meat, rice and then sauce poured on top. Gawd those things are great. HAPPY POSTINGS FROM GRANDPA BOB !!~


• United States
23 Aug 08
Great job Grandpa Bob! Again I am envious. I know it is a matter of time till I can post my great harvests too. I am sitting down today planning my raised beds and the other parts of my garden. I will be building one bed at a time due to finances but I can't wait to get all 4 built in the backyard. It will be so great to go out there and just putter away and grow and pick and grow some more. I wish it would stop the raining here so I can get my garden (container garden) out of the garage again. We had to move them there while Fay was here Fay is moving out so hopefully tomorrow I can move things back out of the garage. I have baby plants in need of sunlight.

• United States
23 Aug 08
I am waiting to hear about yours and photos as well if possible. I am looking into a couple smaller raised beds for spices next spring. Don't know what I am doing as far as that. The time comes then I'll decide I guess. I seldom plan that far in advance actually. I just dig and plant when the ground is not frozen and no more frost is expected. Hahaha! So far this summer and spring we are over 5 inches behind on rainfall. We need some badly. Almost in drought stage they say. But I water every other day myself so mine thrive. But it would help getting rain then I'd save on my water bill. HAPPY POSTINGS FROM GRANDPA BOB !!~

• United States
23 Aug 08
I will definatly take pics of everything. We decided to do our raised beds with cinder blocks. I am calling tomorrow to check how much it will cost to get them delivered and how much the blocks will cost to get one bed done (44 blocks) then we will go from there.

• United States
24 Aug 08
I would guess the blocks will run around $150 to $200. Just my guessing is all from my shopping for various blocks. HAPPY POSTINGS FROM GRANDPA BOB !!~


• United States
23 Aug 08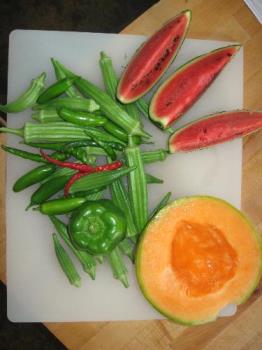 Hi Grandpa B,[i]wow! that is cool! YOu have plenty there huh! LOL! I have also some today and I will attached a picture and as usual my favorite okra is there with the fruits! LOL! I hope I will make the picture this time![/i]




• United States
23 Aug 08
Photo worked and I added a comment to it as well. Thanks for sharing. I have never had okra in my life. Maybe some day I'll try it. Hee hee. Good pickings there for you as well. You grew the watermelon also? HAPPY POSTINGS FROM GRANDPA BOB !!~

• United States
24 Aug 08
For the first time, I made that pic here..lol! My in-laws and hubby doesn't like it too! LOL! Yea Grandpa B, we grow that melon also and we still have 6 coming! It's nice, less effort!




• United States
24 Aug 08
I guess you are keeping yourself very busy up there in Minnesota. I have to work some compost or something into my soil here so I can plant my fall crop but we ahve had so little rain here the ground is as hard as a rock. I'm going to need to water it thoroughly before I can even attempt to do anything like that. oh well.

• United States
24 Aug 08
very busy. But the season is winding down. Next comes prep work to keep it over the winter months. This will makwe it easier comes the summer thaw for readying the soil etc. HAPPY POSTINGS FROM GRANDPA BOB !!~

• United States
23 Aug 08
I am beginning to think you need to change your signature from Grandpa Bob to Farmer Bob or Farmer Grandpa Bob or Grandpa Farmer Bob. Hey how about Grandpa Green thumb Bob? I like that one too. It does sound like you will be busy for awhile with all the cleaning, freezing and pickling you have to do.

• United States
23 Aug 08
hahahaha! I've been called farmer Bob alread by some of the neighborhood teens. The daycare lady's little ones (4-7) call me Bob the Builder. HAHAHAHA! HAPPY POSTINGS FROM GRANDPA BOB !!~

• United States
23 Aug 08
This reminds me of the story of the grasshopper and the ants. The ants worked hard all summer and had plenty of food stored up for winter, the grasshopper laid in the sun and played, and starved when winter was here. You are going to be enjoying the fruits of your labors all winter long. Just think of those crunchy green pickles, all to accompany vegetable soups that you make from what you do not eat. Yum!!!Makes me ready for winter.

• United States
23 Aug 08
I doubt this as far as having them all winter. they won't last long with my kids coming over to visit. I give them so much from the hgarden and even from the stores when we shop. HAHAHA! I will be eating pickles for some time though I believe. HAPPY POSTINGS FROM GRANDPA BOB !!~


• China
24 Aug 08
Hello dear Grandpa Bob. It is really harvesting to some extent, I should say. I am sure that you enjoy those harvested. This summer vacation, we have had a lot of tomato soups. I love to eat tomatoes very much, especially when it is prepared in the form of soup. I love the flavor. Happy planting, Grandpa Bob.

• Philippines
24 Aug 08

hello grand pa Bob!! just want to say LUCKY YOU!!

you have a very bountiful harvest!! you reap what you sow that's what the saying says. and you deserve it for being really hard working, for taking care of your garden and giving your time and attention. gardening is not easy, i have a few plants, and guess they are dying now.. i just am too lazy for that hobby, am just not a plant [erson. not my passion at all. i like flowers, but i dont plant them, i paint them on the canvas!

hahaha

• United States
24 Aug 08
You are going to turn into a pickle yourself if this doesn't stop soon!

You'll be glad of it, though, when winter comes and you have all that yummy stuff put away!

• United States
24 Aug 08
nothing tastes better than veggies you have nutured and worried about and grown from a seed. what a pleasure i feel whenever i read any of your postings about your garden. my mouth waters for some of your veggies ! someone gave me 3 zuccini from their garden yesterday. still warm from the sun ! i took the zuccini and shredded it, added lemon zest, some plain bread crumbs and gently fried little cakes. like the salmon or potato cakes you make. that's all i had for dinner. nothing could compare with it.