Which do you prefer to have in the house?

United States
8 responses

• United States
30 Aug 08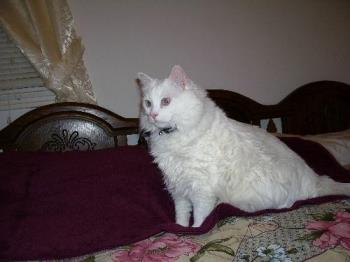 I have had many of both genders and the love they provide is unconditional. Right now I have one female and one male. The female is a calico/Siamese mix and neurotic as they come and the male is a big white cat we adopted as a tiny kitten. He is the gentlest, most loving creature on the planet. So gender really plays no role in their temperament. However having them spayed or neutered is definite factor in either gender. They are always much better emotionally afterwards.


• United States
31 Aug 08
Our barn cat has had five kittens - three yellow tigers, one sold black and a brindle colored calico (I forget the proper name for that coloring). One of the yellow tigers is standing out as a nice, quiet, laid-back personality, and I'm leaning towards him for my house cat. I'd bring them all in the house, but I don't think my husband would be too keen on that! We already have two dogs in the house, so it's like a zoo anyway!


• United States
30 Aug 08
I don't like reptiles as pets, but furry things are okay.

• United States
30 Aug 08
I would prefer male. We just have a female now, as I had to give away my male cat. Ours are the exact oppsite of yours. My moms cat is a female and shes a mean little thing!

• United States
30 Aug 08
We had one female that liked girls/women but didn't like boys/men. I think it may have been that the boys teased her!

• United States
30 Aug 08
At my parents house we have had both male and female cats and right now we only have a female cat because one of the male cats which was the female cats brother had to be put to sleep because he had cancer which was like six or seven years ago,and the other one passed about a year or so ago,and the female cat is at least eighteen years old,and I think they both make good pets,and I could not choose between male and females cats,and I would rather have at least one of each.

• United States
30 Aug 08
I am sorry to hear that you had to put your cat to sleep. It is heartbraking to lose a pet.

• United States
30 Aug 08
I have had both. My male cats always seem more affectionate to me. Creamery is the type that will come up and hug you, putting both paws on your shoulders, then kiss your chin. He comes to meet the car. I think each has its pluses and minuses, I just enjoy cats.

• United States
30 Aug 08
My barn cat will come to meet meet in the evenings when I go down to the barn to feed all the animals. She knows the sound of my four-wheeler and comes running!

• China
30 Aug 08
Yes, gender do effects on the character of pets. In China, people always do a little operation with the males so that they won't reproduce a kitty. This also change the pet behavior and character. In my opinion, you love pet and it give back to you, that's the point. Right?

• United States
30 Aug 08
We also "fix" the cats that we have in the house, which makes the males not "mark" their territory and keeps from having the behaviors they exhibit when they go into heat.

• United States
6 Sep 08
I am a cat person myself and have had them all of my life. This year was my first experience owning a dog (Yorkshire Terrier) and I can tell you that I prefer cats over dogs -- HANDS DOWN! Cats are so laid back and aren't needy pets. Dogs are just like having another kid in the house! They want to be everywhere you are, which can really be annoying at times! I also can't stand having to bathe them and pick up after them. Now I know where the saying comes from "stinks like a dog". Our dog even stinks AFTER a bath. I can't stand that about dogs! Cats, on the other hand are self-sufficient. They do everything when and IF they want to. They are on their very own schedule....not yours. They are clean, clean, clean and when you find the right litter for their box, you won't be able to part! I love that about cats. Currently, we have two cats in our house. They both stay indoor at all times. Patches, our Calico is very sweet and loving. Lulu, our Maine Koone is sweet, but can be loving. If you know anything about the breed, they are very skiddish and will only get in your lap or come over for a stroke if it's solely THEIR idea. Patches is 12 years old and Lulu is 10 years old. Lulu is just getting to the point that she will come to ME (not really anyone else in the house) and trusts me. She has figured out that I have no hidden agendas, which is a good thing!:) Patches isn't shy at all. She is always right between me and my hubby in our bed at night and sometimes sleeps on our heads! At nearly 20 pounds, she can get really heavy at times! As far as gender goes, I too, have had both male and female cats. It does depend on the cat, I believe. They all have such unique ways and preferances, it's hard to say. "In a cats eyes, ALL THINGS BELONG TO CATS" Don't you agree???