Who is Messier? Your Partner or your Children? PLEASE HELP!!!!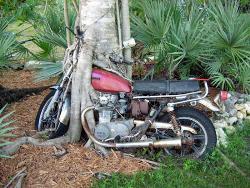 Australia
November 5, 2006 4:21pm CST
Does your home regularly look like a BOMB hit it? Do you get the "That's not my mess" or "I already put it away" lines at home, does it drive you batty with frustration? That no matter how many times you ask your family to just clean up after themselves, rarely they will. And to ad to the many demands of the day, you end up cleaning up after them after they left the house. They then on return believe they cleaned up before they left...
9 responses

• United States
5 Nov 06

You should go on strike, don't do a thing. If they don't put their laundry IN THE basket, you don't wash it. They'll run out of clean clothes. If they don't rinse their dishes and put them in the dishwasher, they will run out of clean dishes. If it gets bad enough, don't cook either. You'll get your message across pretty quick. Another thing I have done for my three kids, is to get a large tub for each. Everything I find for each kid goes in the bucket. At the end of the week, if they want their stuff back, they have to do a nasty chore, like scrub toilets, or something I don't like to do. Works like a charm.

• Australia
28 Nov 06
My daughter and my partner are the worst, my daughter is quite happy to wear her school uniform stained with toothpaste etc, it seems that shes blissfully ignorant. It is very difficult to come home from work and have to step over my partners 20 computers just inside the door way, at times I don't dare to take my shoes off, never know what i'm going to step on...great pic, thankfully our kitchen looks a little bigger, thus more space to mess up before the big tackle. cheers

• United States
5 Nov 06
Ooo that is a tough one. I really don't know. My fiance and my son are both pretty messy. Lately my son will pick after himself in the common rooms of the house but his room is a mess (which is fine by me as long as it stays in there!)

• Australia
28 Nov 06
Most of the time my families mess leaks into the rest of the house.


• Australia
5 Nov 06
Hubby is by far the messiest, no comparison.With the kids you can at least get them to clean up their own stuff a little.

• Australia
5 Nov 06
I'm with you on that one, my hubby is way messier than the kids and it feels hopeless somedays

• Canada
5 Nov 06
my child is the messiest in my house

• Australia
5 Nov 06
Of my 4 children my daughter is the messy one followed closely by her teenage brother...

• United States
28 Nov 06
My kids are pretty messy. Getting them to clean is like pulling teeth. Where I live we have to keep it clean because we have inspections. If they come into our apartment and its messy we can get evicted. Its not too bad but we have our moments when you wonder what went thru the apartment.



•
5 Nov 06
I sometime wonder this but i have to say that my partner is worse than the kids anyday