When life gives you lemons ...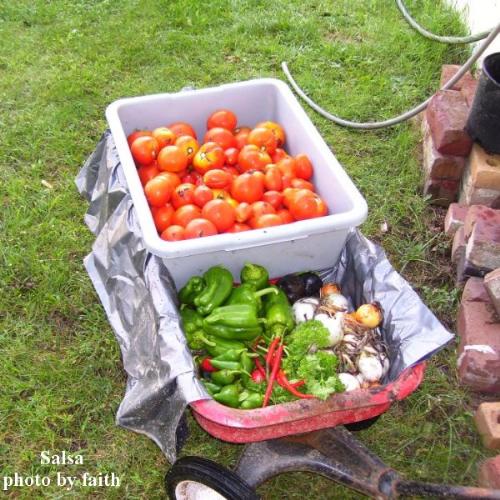 United States
September 11, 2008 6:01am CST
I know, make lemonade:) Well my saying this week has been 'When life gives you tomatoes, make salsa.' Yes, 9 more quarts of salsa. My 17 year old son informed me the last batch wasn't HOT enough so am getting him with this batch - adding Kung Poa peppers. Those things are so hot I couldn't taste anything for the rest of the day after just touching one to my tongue. This photo is my grandson's little red wagon loaded with 'salsa' - tomatoes, onions, garlic, green peppers, jalepino peppers, and kung poa peppers. So, what has life (or your garden) given you this week and what did you do with it?
9 responses

• United States
11 Sep 08
LOL. I think the very same thing. My mom, just gave us a bunch of tomatoes and peppers. I knew what I was going to do with all of them this time too. I made salsa also and I made sure to make her some too. I need to take it down there and give her some soon.

• United States
11 Sep 08
I'd never made salsa until this year but in the spring when I started the garden I found a recipe for it and thought I'd just plant everything I needed. Salsa is something we eat alot and with prices getting higher and higher I can see my efforts will save on at least that.

• United States
11 Sep 08
Yum, that sounds really good..All we have are 4 red tomato plants and 4 yellow pear tomato plants..But they are delicious...

• United States
11 Sep 08
LOL - all total I planted 32 tomato plants but 2 didn't make it through the hail storm first of summer. 5 different varieties but no pear tomatoes.

• United States
11 Sep 08
Wow..

I can only imagine that many plants..lol We not only don't have a tiller, but the room either, but I would love it..Enjoy your harvest, it look very good..

• United States
11 Sep 08
I have space and a tiller (first time I ever used one was this year) but it has been a tremendous amount of work. The pantry and freezer shelves are worth it though - corn, beans, peas, peppers, cabbage in the freezer and tomato sauce and salsa on the pantry shelves. If I don't sell all the pumpkins I'll be doing up pumpkins for pumpkin pies too.

• United States
11 Sep 08
I am not to the harvesting time yet in my garden. But I love homemade salsa. Wow your kung poa peppers sound as hot as the habeneros I got off my pepper plant this year. those suckers were super hot and the plant kept giving me a bumper crop on one plant! I can't wait to start harvesting from this planting. We got the first bed made with the cinders and now just need to haul in some dirt and peat, and manure and compost. then we will be ready to plant in it.

• United States
11 Sep 08
Oh your harvest time will come about the time I'm knee deep in SNOW :( I am blessed, if I need 'dirt' I just jump in the Gator and drive out back - have marsh muck in the woods, dirt where ex is digging a pond, pile of wood chips and droppings from the chickens, goats, and rabbit coop, and compost piles at back of property.

• United States
11 Sep 08
Oh I envy people who have real dirt. All we have here is the sand the locals call dirt.

• United States
11 Sep 08
This isn't the best 'Michigan dirt' here but with some work - me and the tiller, it will improve greatly. It's the digging and hauling that really gets me these days. Have 5 huge composts piles I started this year and paid my 17 year old to turn them for me :)

• India
11 Sep 08
Sounds yummy!! What is salsa? Anything to do with sauce and ketchup? Yup, the garden has lots to offer. :) The rains spoiled things a bit, but the garden does have some lovely things such a papayas, chilli, beans of two varieties, a few tomatoes, okra, and so on. I do love gardening. :) Cheers and happy mylotting

• United States
11 Sep 08
I think pretty much the same as picante sauce - a tomato base with peppers, onion, and garlic. Great with Mexican food, dip for chips, I even eat the stuff on scrambled eggs. I love a little spice in my life.

• India
12 Sep 08
Mmm ... really yummy.. I do love reading about food. :)

• United States
25 Sep 08
It sounds like you have been very busy.I made salsa one year & i got the recipe from a friend and it was so good.it did not last anytime but it was fun making it...You have your grandson working too i see....


• Australia
22 Sep 08
It all sounds so lovely faith and like lots of work. It's very dry here...I can only afford enough water to keep things alive...they don't grow any bigger...we need rain and lots and lots of it but I think we need to get used to things as they are now. Keep up your good work.



• United States
11 Sep 08
I have a really large lemon tree and the lemons never stop growing, so, yes, I keep making lemonade out of them.

• Canada
11 Sep 08
I took those raspberries and strawberries and put them in the freezer. So that will mean I will be able to have them in winter on my yogurt. I doubt there is enough to make jam and besides jam has all that sugar on it. I will have to wait and see if the potatoes make it. It has been quite soggy this year and the potatoes are growing on the compost soil fighting against the two blueberry plants - oh I got about six out of them, and they will go in the freezer bags as well.