Do you do your own laundry?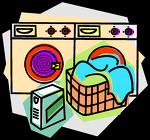 United States
September 20, 2008 12:10am CST
I do my own laundry just because there is a certain way that i like my clothes to be washed.LOl I need my darks to be washed with a different soap than my colors and whites.And then I need just the right amount of fabric softner and dryer sheets LOL.I know I am picky but this is why I do it myself LOL.. How about you?do you do your own laundry?And if so are you as picky as i am?
7 responses


• Shingle Springs, California
20 Sep 08
Mine, my husbands, my kids... And when he does the laundry I have to bite my lip and get the heck out of there!


• Philippines
20 Sep 08
I dont do my own laudry. I bring my luadry to laudyshop.. I like to do it on my own but I dont have time to do it.. usually during weekends, I sleep and take a rest because the whole week is a week of work. Happy mylotting guys!


• United States
23 Sep 08
i do my own laundry. i need to wash clothes in groups. whites; gym clothes; sheets and towels; rags and pet stuff; sensitive and knits; denims and dark stuff. as u can tell, my laundry never gets finished. i have to organize in groups, and then do each separately. i end up doing one a night, because i heard it is better to wash clothes at night than during the day. saves electricity.