Have you seen???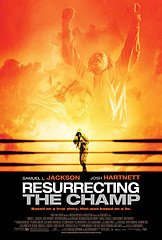 United States
September 20, 2008 12:31pm CST
I've been doing my normal Saturday morning watching movies off Video On Demand. Today it was my pleasure to watch Resurrecting the Champ with Samuel L Jackson, Teri Hatcher, & Josh Hartnett. I don't usually enjoy boxing movies, but found this one to tug at the heart strings!!! It was one of those movies I meant to use for background noise while I worked in myLot. It didn't quite work out that way as I found I watched the whole movie. If I'm still watching it after the first 3 minutes, I know that more than likely it's going to be a good movie. Well....I watched the whole 111 minutes & even cried at the end. NOT because I was sad, but because it spoke to me!!! It's one of those that I would have still enjoyed even if I had to pay for it!!! If you get the opportunity to watch Resurrecting the Champ. I strongly suggest you take the opportunity. What movie have you watched thinking that you're not going to like only to find yourself glued to the TV???
4 responses

•
21 Sep 08
Hi LadyMarissa, I have not watched a good movie for a long while yet, but I have seen the old movie The Champ and that one made cry buckets, I prefer to watch old b/w movies because I don't like modern movies. Tamara

• United States
21 Sep 08
I cried buckets too when I watched
The Champ
. This is
NOT
the same movie. This one is
Resurrecting the Champ
It's a new movie starring Samuel L Jackson as a homeless down on his luck boxer & Josh Hartnett as the writer who finds & befriends him. It is very much a lesson learned life story. I smiled through a lot of it & cried buckets at the end. It is not as good as the old black & white movie
The Champ
as it is a totally different story!!! Still one that I enjoyed!!!


• United States
20 Sep 08
Oh, I will have to look for it. It sounds good. YOU HAVE TO SEE the movie "Mama Mia". It's fun, it's funny, and so entertaining. I truly enjoyed it. I can't think of any that I have been glued for lately, at home. Sometimes I will just watch a so-so movie, because I am bored or I am interested in finding out the ending, even if it's not a great story.

• United States
20 Sep 08
No, I've not been able to see Mama Mia yet.

I hope to see it soon!!! Since joining myLot, I've found numerous movies that I call my sleepers. I go to Video on Demand, then Starz. They have an early premier section where they show new movies coming out on DVD for free. I usually mean to use them for background noise while I work on myLot. Every so often, one catches my attention & I just can't stop watching it.
Dan In Real Life
is another one of those movies...Only I had heard a few people say it was funny...They hadn't indicated that it was that good.

Hopefully Mama Mia will be on there soon!!!!!!


• United States
20 Sep 08
I have never seen that movie as it is not the type I would watch myself but might have to check it out and give it a chance. It sounds like it is a good one from what you have said. It has been a long time ago that I watched on and thought just by the name that it would be s dumb movie and I would never like it but once I started watching it I did the same as you and sat there and watched it all and it was Fried Green Tomatoes.

• United States
20 Sep 08
YES,
Fried Green Tomatoes
was another GREAT movie.
Resurrecting the Champ
was about a writer & a boxer. I almost didn't watch it from the description. Then I decided that it would be a good background noise while I flitted through the Lot. Well, I didn't stop watching until the credits rolled at the end.




• United States
20 Oct 08
I havn't seen it or heard of it but I rarely find movies I dislike. When I do it's mostly because they are thinly disguised politcial messages that grate on my nerves. Occasionally I will find a movie so badly made that it sickens me but even most "b movies" are able to hold my interest. I actually enjoyed a lot of the movies that came on Elvira's show and Mystery Science theater. On the other hand some High end movies are to rediculous for words. Charlies angels was so insanely stupid I shut it off after around 15 or 20 minutes in. My wife and I were both shocked that they made a sequal.

• United States
20 Oct 08
Charlie's Angels was a total waste of time & effort. I do believe you will like Ressurecting the Champ!!! It is a simple touch of human story with a few exciting twists.