The Court Case Is Over!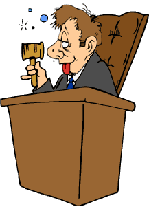 October 1, 2008 9:22am CST
The court case involving my son and his family is over. Apparently, my Daughter-In-Law got a little uptight at the questions she was being asked by the defence counsel, but I'm sure she had reason. The upshot of the whole thing is that they haven't yet reached a verdict, and can take up to three days to do so, at which juncture my son and daughter-in-law will be advised. So, the whole thing is still up in the air, and none of us is well-pleased, to say the least!I despair of the British Legal System, I really do! I mean... two months or so of waiting for this second court hearing, and still they don't know what is going to happen. What do you think about all this? Would you be satisfied? I told my son to claim loss of earnings from the defence counsel, but I doubt he'd have a leg to stand on! It's no wonder really that British people take the law into their own hands at times because that's the only real way one can know that justice has been done!Have any of you had experiences like this... all the agonies of waiting? Have you reasoned why, or what if? I mean, if my granddaughter had made a statement in the first place, then it probably would have all been signed and sealed now, but she was afraid of him, and now, her parents don't want to drag her back into that situation because she seems to have shut everything out for the time being. I'll let you all know in this discussion, as soon as we hear anything but I have my doubts, and certainly don't have much faith in our legal system.
10 responses

• United States
2 Oct 08
I was sued by this woman who came over when I told her not to, and then her child got nipped by the dog. The daughter had let the dog in and she didn't put the dog out when I told her to. the kid was bit at the end of May, we were informed that she was sueing us in August. The lawyer she hired first tried to "black mail" us into paying - I told the laywer she didn't have a case. When they tried to get insurance money - they found there wasn't any available (and I told the people not to pay.) She then tried to go after me in small claims court but we ended up on one of those Judge shows - tho they never showed it. She lost.


• Pakistan
11 Oct 08
Hi dear I am surprised to read your discussion, i was of the view that these lengthy legal process arwe here only in Pakistan. trust me of its case of lans acuiring or some thing like that it goes till next generation, both parties can linger it on. Here people pray that they should not get involve in any Court, Police station or Hospital matter as they really squeeze and iritate people wish u all the best

•
11 Oct 08
My only wish is that it might have been unavoidable my dear friend, but in this instance, there was no way to avoid it as my son was confronted by him on his front doorstep. However, I, for one, shan't be sorry to hear the outcome, and am hoping that this guy will be put away, and unable to contact my granddaughter for a very long time! Brightes Blessings my friend, and thank you for your contribution.


• United States
1 Oct 08
It sounds like the jerk got a good lawyer. Here in the USA it could take longer than that. If it is a jury trial then we have to wait for the jury to come to a decision and if it is for the judge making the decision then we have to wait for him/her and it could take up to 30 days or longer. I think three days is not long. It sounds like your son needs to hire a hit man to beat the little suck up and give him a taste of his own medicine.

•
2 Oct 08
Here, the verdict is reached by a group of social workers I believe. They consider what's the best punishment/treatment for the juvenile. Three days seems like a lifetime after all the messing about, though. As for your final suggestion, the offers have been there, but so far, my son has declined them. More fool him, I say, but he's like me... he needs for the boy to be punished and harshly, but we don't particularly agree on treating violence with violence. The kid's head needs sorting out! Brightest Blessings, my friend, and thank you for your continued support.

• United States
2 Oct 08
Dark wing I am not quite sure what you mean. I know you said the verdict is in but I did not get the verdict if you said it. I guess I am slow


• Philippines
2 Oct 08
Well I think legal system are really slow. I have a case on our house helper for theft and it took almost a year after we've filed before the fiscal really sat on the case and evaluated the case. We just lose interest on it already and did not pursue filing the case as we think it was just a waste of our time since the stolen items are nowhere to be found anymore. The house helper did go Scot free for that slow justice system that we have. I guess if in you place you are already complaining about it so much so in my place. Only if you have the money or influence over the jusdicial system, that the wheels of justice moves faster.

•
2 Oct 08
Wow... that really is far too long to have to wait for a case to be heard. I'll bet you were out of pocket from solicitors' fees etc., when you dropped the case. What are they thinking about? They charge by the minute and work when they feel like it. I've really lost faith in the legal system. Brightest Blessings and thank you for your contribution.

• Philippines
2 Oct 08
Yes we did not respond to it anymore. We are supposed to go back on the fiscal's office to formalize everything and would issue a warrant of arrest against the suspect. But I think the suspect got away with it already and I guess it would not do anything or any justice anymore for us.

• United States
1 Oct 08
Sorry to hea all this you would think they had made up their minds by now. and yup she might should have made a statement to get over the agony of the wait!. KNow nothing about your system over there but here if it is just in rfront of a judge he does the ruling then and there. Get it all over with no waiting. that is in civil court!

•
2 Oct 08
Our system often involves a jury but I think in Juvenile Court, they have a group of social workers assessing the case. He must surely have a social worker since he was thrown out of school at the age of fourteen and has a criminal record as long as your arm. I feel that all the time he's allowed to wander around bullying people and getting away with it, the longer it will go on. He certainly won't improve without sever reprimand or psychological help. Brightest Blessings my dear friend and thank you for your contribution. x

• United States
2 Oct 08
Surely he does have one but they need to do thier job and do somethuing with him . Here they would have him somewheres else but where he is that is for sure and he wouldnt be out roaming around . Most kids here are in foster homes at this age!

• Australia
2 Oct 08
I think all legal systems need to be overhauled. it isnt only the british one. Australian legal systems are the same. I have a friend who is going through something at the moment and they just keep adjourning it, and now the case has been put off till december and of all days on his birthday. he is getting really frustrated, and angry at the whole system, and has gone off a couple of times which he probably shouldnt of. but i am glad the court case is over, and hoping the right verdict will be made. best wishes and take care, my friend. xxxxx

•
2 Oct 08
Quite frankly, my friend, you can't wonder at people "going off" when they're messed about like this. All the nerve ends must be jangling when you're told time after time that the case has been adjourned. They obviously don't have enough evidence to convict or even try the offender on. I feel sorry for your friend, whether he be offender or victim. It's not as though lawyer's are cheap, after all, and to drag things on like this is laughable. Brightest Blessings, my dear friend. I'm holding out for a verdict which my family will feel is fit for this lad. Thank you for your continued support and your contribution here. xx

• Canada
2 Oct 08
yep my son had a case it was postponed 13 times, from telling us the court case has been changed don't come, to going to court to find that the judge or one of the lawyers is not present and the court date is changed again. It is ridiculous.

•
1 Oct 08
Hi Darkwing..it is a shame your grandaughter didn't make a statement before but I can understand how afraid she must of been. The British Legal system can be hopeless especially as there is so little room in prison's remand centres etc etc..but I do seriously thinnk he is going to get his just reward for what he has done to your grandaughter...I hope she will also be properly advised as to how to handle this situation and that her lawyer is a good one...Brightest Blessings littleowl xoxo

•
2 Oct 08
Yes, it is a great pity, my friend, but she must have been going through a very traumatic time in her head. I don't know whether they can represent the case with her statement added, if it doesn't get resolved this time around but I sure would look into it. Brightest Blessings, and thank you for your continued support. x

•
1 Oct 08
Hi DarkWing, I am sorry to hear you still have problems with the court, I suppose they just give a a fine and smack on his wrist, tell him not to do it again then let him go, and yes I don't have much faith in the law eiher. Good Luck Bright Blessings. Tamara

•
2 Oct 08
I feel that all the time he's allowed to wander around bullying people and getting away with it, the longer it will go on. He certainly won't improve without sever reprimand or psychological help. I hope he gets it soon because if he moves into adult life expecting to bully his way to what he wants, then there's not much hope for him. He needs to have his head sorted out, and to be given the responsibility of working for a living, and becoming a decent citizen. That's my opinion anyway. Brightest Blessings and thank you for your contribution, my friend.

• United States
11 Oct 08
It is hard to have faith in any judicial system any more. It costs a fortune to hire a good lawyer and takes a lot of patience to get through a case. I am facing a divorce case and not looking forward to it at all. It will take six months minimum to work through. But I suppose that is better and faster than it used to be. My grandfather had to wait 5 years for his divorce to be final.