Has Anyone Ever Heard Of Wallies?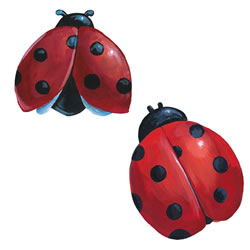 United States
October 5, 2008 2:17pm CST
They're really cool thing of the day! They're wallpaper cutouts that you can decorate the walls of your home and they're washable and removeable. I have a set of 24 ladybugs to go into my kitchen however, I want white daisies too to go with the ladybugs because that's the theme in my kitchen but I can not find the white daisies anywhere. I can find gerber daisies but it's sooooo not what I want and gerber daisies won't go with the rest of my daisies. Soooo my question is, do you know where I can find white daisies wallies? I've had the ladybug wallies for quite a while now.... about a year and a half and would so love to put them on my wall FINALLY.... lol Below is a picture of the ladybug wallies I have. They're so cute!! I want to put closed wing ladybug then an open winged ladybug then a white daisy and continue on like that. What do you think? Do you think that would be pretty and not too much of one thing or the other? I'm about to put the ladybugs up and say to hell with finding the white daisies. lol But really, I don't want to do that but if I keep on waiting then it might be too late and I'll be changing the theme once again OR the wallies will curl up and fade away. lol You know what I mean. lol So do you know where I can find white daisies? They just have to be out there somewhere on God's forsaken earth!!!!! But where? I ask... Where?! lol
4 responses

• United States
5 Oct 08
No, I haven't heard of these before, they sound interesting..I will take a look at your picture, this might be something new for me to do..:)


• United States
5 Oct 08
They are really neat and come in so many different designs. Here's the main link to the site for there are so many others. I have a bathroom with nothing on the walls because they're so big and I haven't found anything that would "look good" on them and I found this huge wallie from the garden section of a garden fence with flowers all through it and I thought that would be perfect because I wouldn't have to worry about moisture getting inside and ruining it but it is a wee bit more than I would like to pay for it so who knows what I might do. Decisions decisions decisions.... lol http://www.wallies.com/wallies.htm

• United States
5 Oct 08
Those are awesome, did you see the dry erase and the chalkboard ones? Thank you for sharing this, I am sorry I couldn't help you with your white daisies, but I am happy you shared this site..I am going to get their free catalog..:)

• United States
6 Oct 08
Yeah I saw them... I have a dry erase board with the date on it and a memo board, uh... my second one because like this one, the marker comes off for a number of times then it doesn't come off so easily after that and then it basically falls apart. I still love the darn things but wish they kept up longer than they do. It's ok, I'll eventually find them but thanks for giving it a shot!! lol


• United States
6 Oct 08
I found some on ebay. http://cgi.ebay.com/WALLIES-DAISY-RETRO-SMILE-50-WALLPAPER-CUTOUTS_W0QQitemZ300259680423QQihZ020QQcategoryZ31602QQrdZ1QQssPageNameZWD1VQQcmdZViewItem I posted the link, I am not sure if it will work. There is a store on ebay called Wallies and More, they have them. The ones with the daisies are item # 300259680423 Thats in case the link doesn't work. I buy and sell on ebay all the time, mostly sell. Its safe to shop there, I use paypal on ebay. The daisies are cute, thats my moms favorite flower, she has daisies in her kitchen too.

• United States
6 Oct 08
They're my favorite flower too! lol And I love ladybugs because my grandfather called me ladybug all the time when I was little so of course I fell in love with the creapy crawlers. lol I saw these on another site and it's not exactly what I'm looking for since I don't have smiley faces on my canister set or sugar bowl. lol Thanks for trying!!

• United States
6 Oct 08
I have never heard of Wallies before. It is a interesting idea. You can remove them when you want to put something new or different on the walls. What else are there besides ladybugs and and white daisies?

• United States
8 Oct 08
Hey LouiseKnittel! Sorry for being a wee bit slow in answering you!! Here's the link to the wallies http://www.wallies.com/wallies.htm check it out, they're like wallpaper but in little bits and pieces instead of a whole sheet. You can get almost anything imagined like flowers, bugs, butterflies to garden pots to fences. Just about anything you can imagine to decorate your room or even a kids room. They're supposidly easy to take down, I say that because I haven't used them yet because I'm still looking for the white daisies which seem to be a needle in a hay stack to find.

• United States
6 Oct 08
I went and looked around, did not find any when I was looking online. What if you bought a border and cut out what you wanted? I would be tempted to go that way. You got me looking and dreaming, though. I saw a large mural or two I would not mind having.

• United States
6 Oct 08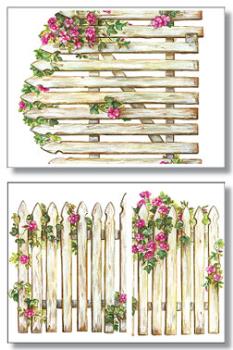 Now that's an idea!! Cool!! Thanks GG!! What a wonderful idea!! clocking myself in the head, why didn't I think of that? Maybe I'll have what I want after all!! Thanks again!!


Which mural do you like? I like the one that I attached, the fence with flowers to put around my wirlpool tub. The walls are so tall because of the tub that I need something big or to take up space along with something else or by itself and this could do either! I might add more if I find the right thing to add so I'll have to see in due time!