Anyone else get paid from hits4pay this month?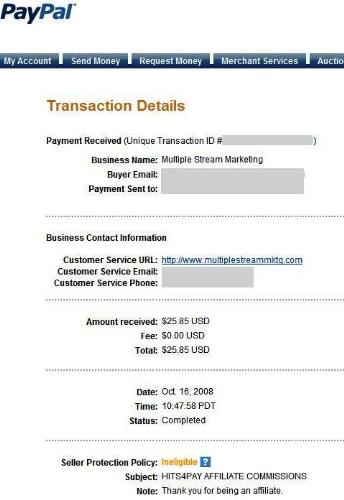 United States
October 17, 2008 8:47am CST
I have found MANY paid to click sites online. I have to say hits4pay has been one of the best ptc sites around. I see new ptc sites everyday than a month later are closed down. Hits4pay has been around for years, that's why I trust them the most. I've been paid from them 4 times, a total of 113.53. I have read alot of good and bad reviews about the site in my two years of being a member. The good things I have read is like I mentioned, it's one of the most trusted ptc sites around and alot of people are making very good money from the site. The only bad I've read is what you usually see with ptc sites, people complaining because you have to have referrals to make money. Yes, it's true, for ptc sites you have to have a referral line to really make a good amount of money but it's not impossible. I'm still not at my goal which is to have a referral line of over 100 and most being active, but I'm determined to reach that goal. I have 59 first level referrals, about 20 or so are active and 14 on my second level referral line. How many of you are doing well with the site and how many referrals do you have?
4 responses

• Malaysia
17 Oct 08
I hardly get any paid emails from the site. Though I got a 10 dollar bonus sign up, I'm still 14 dollars away from the minimum payout! How do you get so many referrals?

• United States
17 Oct 08
Hi, I also love this site, but I have not made nearly as much as you. I had 1 active referral but she quit a month ago. I have been paid once by Paypal and I was very happy about it. I still have a ways to go until my second cashout.

•
18 Oct 08
That's a good number of referrals

and congs on the payout!

I am a member but I think they send every few emails, I guess you do need a large number of referrals to reach payout quickly


• United States
17 Oct 08
I currently have 62 referrals, about 30 are active and 21 on the my second level. It is true, you need referrals to make the site work and reach payout on a regular basis. I reach payout every other month, but I am always so close at the end of the month, that just means my payout the following month is better. Or at least that is how I justify it.