Sable has new friends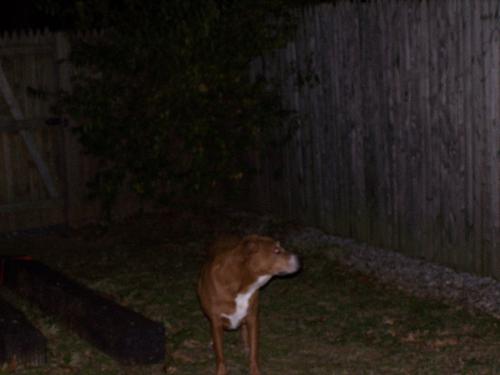 United States
October 24, 2008 9:08pm CST
Normally my dog, Sable, goes outside to do her business and unless it's a very nice day out she's right back in the house to lounge around. When it's a nice day out, she'll either lay in the grass or on the deck to soak up some sun. Well, lately, she's been "playing" with her new "friends" while she's out there so she's pretty anxious to go outside now. She stays out there for HOURS "playing". Who are these new friends??? They're the squirrels running along the top of our fence. They jump from the tree branches to the fence, run along the fence and hop into another tree. Sable's fascinated with them! She'll sit there and watch them for hours, and walk along the fence waiting for one of them to fall into the yard. She really cracks me up - except when I'm trying to leave for work in the morning and she won't come in! We just got home from dinner tonight and she wanted to go out. I found her on the side of the house looking for her "friends".
8 responses


• United States
25 Oct 08
Oh I'm sure she's jsut waiting for one of them to slip up and fall so she can "play" with it. I don't think she understands that once she gets ahold of it it's not going to "play" back...

• United States
2 Nov 08
Does sable bark at them? Petie loves to chase the birds in the bushes. He is so cute he tries to climb the bushes to get at the bushes. Now if he did not bark that would be so much better.

• United States
2 Nov 08
Nah, that's the good part! She just stands there and watching them waiting for them to fall and play with her. They never do though....

• United States
5 Nov 08
What a nice silent way for her to spend her days. I wish Petie would that good.

• United States
27 Oct 08
We had a couple of squirrels that came every morning to get the seeds from that date palm in the yard over our back fence. The would scurry along the phone lines till they reached the pole in our yard then come down to the fence top and on into the date palm. Ginger, my Pom/Snow dog mix, would get onto the picnic table to watch them and bark at them. Sometimes they would chatter back at her. Once they stripped the palm of all the seeds they stopped coming but she will still sometimes sit on top of the picnic table waiting for them. She likes to chase things, cats, people, other dogs. Yelps and runs away if what she wants to chase turns on her. I think if she caught a squirrel she would want help to turn it loose.

• United States
28 Oct 08
That's so cute that Ginger still waits for them on the table! Sable does the same thing. It was raining a little bit yesterday and normally Sable won't go out in the rain. Well, she did, just to go check on her friends. Once she realized they didn't come out in the rain either she wanted back in the house! She's so funny standing by the fence waiting on them! I don't think Sable would mean them any harm if they did get in the yard. One time a baby bird got in the yard and she wasn't trying to eat it, she wanted to play with it, like a ball or something.

• India
25 Oct 08
One of my pets, Trixy, likes yelling at all the dogs, cats, cows, etc. When she was young, she caught a frog. To save the frog, I tapped her lightly with the lead, but I guess that hurt her (that was the only time that happened and I still feel guilty for hurting her). But that was enough. She never catches frogs when I'm around. She might do it if I'm not around. Friends with all of them? No way.

• United States
25 Oct 08
I'm sure if they landed in the yard she's betray that friendship in a heartbeat!!


• United States
25 Oct 08
Oh, I'm sure that's what she's waiting for! It's just so funny to watch her, she looks sooo longingly up at them!

• United States
25 Oct 08
Hi reiny! I think that's so cute! I like the name Sable! What kind of dog is she? She likes to play with the squirrels? What a cute thing to say! Do you have any pictures of her? I want to see her! If she's having fun let her play! Try to take some pictures of her with her new little friends! I wish I could have a dog again. I love dogs too. I can't have them where I live, only kittys.

• United States
25 Oct 08
She's a mix between a boxer and a golden retriever. I took that pick at night, so it's a bit hard to see her, but that's what she looks like!

• United States
25 Oct 08
I can feature Sable doing this. Or any other dog. It does keep her bright and alert, I am sure. It would be entertaining to watch her watch them. I would be growling myself though, if she were to make me late for work.

• United States
25 Oct 08
Oh, it's happened a few times this week! I even tell her she'll get a treat, or ask her if she wants to go "bye-byes". Those two USUALLY get her running into the house, even though she doesn't get the treat or go bye byes. Fortunately my boss is pretty lax about schedules or I'd probably not let her out in the mornings! In the evenings, we do like to sit and watch her, it's too funny!