Do You Eat Goose Berries?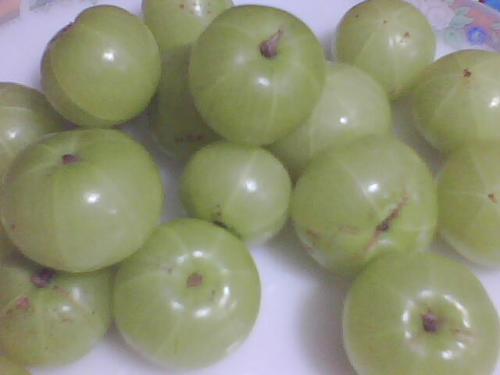 India
October 28, 2008 4:02am CST
Goose berries are fleshy green coloured fruits grown in the tropical countries. They are about the size of a lemon, though some varieties are small in shpe. They are sour to taste and locally i India we refer them as Amla. In Hindi and Marathi we call them as Aawla, In Telugu we call them as Usiri Kaaya. This fruit is normally not eaten raw because of its sourness and bit of bitterness too! But people make Pickles from these fruits. Mrabba is another way of consuming this fruit where this fruit is allowed to soak itself in Sugar, After absorbing the sugar from the syrupthus formewd this fruit can be preserved for years together. This fruit after boiling in sugar syrup is dried in sunlight and have the shelf life of few months. Goose berries are very good source for Vitamin C and it is an excellent anti oxidant, there by increasing the body resistabce against the infecions. Amla is having special position in the Ayurvedic form of medicine as it is having good effect for the health. Chyavan Prash is one of the product by Ayurveda which is abundantly used in India by Young and Old alike. Constipation, Common Cold, Diabetis, Digestive Disturbances, Respiatory diseases are few for which Amla is recommended by Ayurveda Doctors!Well! Have you wever consumed Amla, if yes in what form? Please respond! Thanks!
3 responses

• Canada
28 Oct 08
When I grew up in mid-western British Columbia, both Green & Black gooseberries grew in the wild! We picked lots of them & preserved them for winter consumption! They were not the size you are speaking of...but about the size of a raisin! They were very prolific, and a staple for our winter diet, either preserved in jams or jellies, or sun-dried! I miss them, tho, as they don't grow on the South Coast where I live now! Cheers!

• India
29 Oct 08
Yes! You are right! The wild ones which are grown in bushes are smaller in sizeand they are more towards sweeter side with semi solid pulp they have typical pleasant aroma too! But the ones what I am talking about are grown on a full grown big trees! Thanks for the response! Happy Mylotting!

• India
29 Oct 08
Oops! It seems there is confusion ! I was refering to Indian gooseberry as shown in the picture and the one you are mentioned seems to be different ones! I refered Goose berry in the encyclopaedia to find it some thing different from Indian Gooseberry! Thanks friend for particpating and giving me an opportunity to rectify my mistake! all the best!

• Canada
20 Oct 10
Good Morning...AKRao24! What a pleasant surprise to wake up this morning to a "best response" for which I truly THANK YOU! And now that we have re-opened the topic...once again, I am hankering for some wild B.C. Gooseberries...LOL! I will have to make an effort to look up the Gooseberry that you are referring too, and it sounds to me like they are grown domestically! You have me intrigued and I am wondering if they are from the same family? Take care...and once again...Thank You, so kindly for the Best Response! Cheers!


• India
29 Oct 08
Calamansi as refered by you is a Citrus fruit and I am talking about some thing different. In fact I am refering to Indain Gooseberry which is having scientific name as Emblica officinalis. The fruit is having sour and bitter taste and i having manymedicinal values! Thanks for your response!

• United States
28 Oct 08
Goose berries! hmm, ive never heard of that fruit before!