cant live without a computer????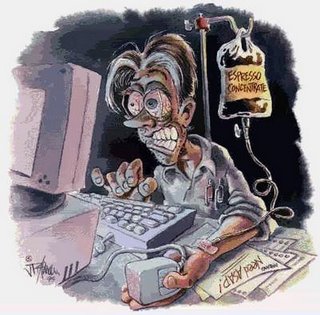 Goa, India
October 31, 2008 1:06am CST
do you use your computer everyday? how long do you use your computer everyday? do you think you cant live without sitting infront of the computer? you have to you the computer or else you feel something is missing? does anybody feel this things? what do you have to say.. ARE YOU ADDICTED TO YOUR COMPUTER??????????????
4 responses

• Philippines
31 Oct 08
Definitely! I spend 12hours or more in my computer, doing almost everything including my job. So, I could say that I cant live without it!

• Gibraltar
31 Oct 08
yes i am addicted to computers. i almost spend 8 to 10 hours on net. few days ago my brother packed my pc so i can spend time on other things especially to give rest to my eyes. i left the home at 11am and they found me at cafe at 9 pm. then they took my class .next day computer was on my table. but i had to promise not to use more than 5 hours a day.

• Boise, Idaho
31 Oct 08
Yes, I think I am addicted to my computer. I am probably on it an average of 5 to 10 hours a day. I write articles, do research, play games, email, IM, sort my files and keep all cleaned out and updated, and I do my banking and shopping online.

• United States
31 Oct 08
My name is Maryellen and I am a computer addict. I am sweating because I am going out of town this weekend with my mother and we are taking the bus and traveling light. I cannot bring my computer. What will I do. Oh, sure, yeah, visit with the family I'm going to see but that's not 24-7. I'm a freelance writer and I must write everyday or something in me is just not right. I don't remember how to write without a computer. And my best friend all through high school just found me on Facebook after all these many years and I am having fun e-mailing back and forth with her everyday. I will miss that. And what about my MyLot, Gather and Blogit activities? Will I miss good jobs to bid on on Elance? I use my computer from the time I get up until around 5 a.m. I don't think I can do this. I am feeling very shaky about this.