Remnants, my best crafting friends. What is a remnant? It is the end of a piece

United States
November 4, 2008 11:45am CST
of cloth when you go where cloth is sold by the yard. I like them because they're strange sizes, often, made of materials that I would often not think to use, and the price is marked down. So if everything except the last 1/4 yard of some fabric sold, the 1/4 yard will be in the remnant section. (I know some of you know, but I started a topic and listed remnants as one of the things I do and some people didn't know what I was talking about). Now for the discussion. I finally made my husband a little pillow. I had bought a remnant of a camping scene. It was really, really cool. It looked like woods, deer, water, canoeing, etc. It was an odd size. It wasn't very big, so I asked my husband if he wanted me to make a little carrying pouch or a pillow with it. He said pillow. So since his birthday, I have had the remnant or the stuffing, or zippers that were way too big, or thread, but not everything together at the same time. Today, the were all there. The remnant, the stuffing, the thread, the zipper from an old pair of jeans (recycling in my crafts, I love it). So months later, I finally finished it. So do you like remnants? Do you like to use recycled items in your crafts? If you use end pieces of things you have or buy, what do you use them for? Have you found anything unusual or that you wouldn't think to use in the remnant section? Do you have a hard time finishing some projects because you just can't seem to find all the things you need at the same time? I wish I had a project room for my stuff instead of it being all over the house. Switching two rooms around didn't help. Thanks and take care.
8 responses

• United States
5 Nov 08
Hi writersedge. I like remnants. I find myself wanting to save my husband's old, raggy t-shirts, dress shirts, bermuda shorts, whatever in case I think of a way to use them. I cut up a tie-dyed t-shirt and have used it to line 3 or 4 purses I knitted (I already told you that in an earlier response). Usually I plan ahead for projects so that I have everything I need before starting it. But I sure love looking through old clothing and seeing what I can do with the "leftovers" before I pitch them or take them to Goodwill, if I think they are "too good" to cut up.

• United States
5 Nov 08
The latest craze is t-shirt quilts. My t-shirts have stains from our rusty water. But most of the print doesn't stain. If I can figure out how to thread my sewing machine or my Mother's without ruining either one (usually I find some way to wind the thread up all inside the machines, did that in high school, too, teacher said she never met anyone like me), I would like to take the pictures from each one and make a wall hanging or quilt. And no, I can't hand sew worth beans either, see my pillow/craft discussion. Yup, anything can actually be a remnant of something else. I love some of my old t-shirts, "Adirondack Women, forever wild!" "Adirondack nights!" Some with animals, Native Americans, and so on. I have some beautiful t-shirts. Once someone else threads a machine for me, I go right to town and I don't do too badly, but the thought of pulling tons of thread out of a machine again, AAAAAAAAHHHHHHHHHHHHH!!!!!!!!!!

• United States
5 Nov 08
I have in the past ordered machine manuals online so that I can thread the machine or troubleshoot something.I cannot remember the site, but it was helpful and took PayPal and came up with a simple search. I do not know if that would help you or not. Wish I lived closer, I would run right over and thread up your machines.

• United States
5 Nov 08
There's about 5 of you here that it would be really, really handy if we all lived next to each other. But then we wouldn't make any $ at Mylot talking to each other. I keep forgetting to look for my Mother's manual, I don't think the machine I have has one. Thanks and take care.

• United States
4 Nov 08
I have used remnants to patch up jeans and when my kids were little they would make pillows..And my daughter when she was little and had those tiny pound puppies, she made them pillows with sleeping bags which were adorable..In fact, looking back, I should have gotten her into 4-H to do some sewing project, she is really good at making things..Like she made her brother a Link outfit, with most of the accessories..(Link, in case you don't know, is a guy on the game Zelda)

• United States
4 Nov 08
You're daughter sounds very cool. I'm not talented at sewing at all. The part of the pillow you sew inside out looks ok when I turn it right side out, but the bottom of the pillow, the part you have to do on the right side, looks terrible and then add the zipper. Glad you explained that because I didn't know. So what does link look like? Pound puppy pillows with sleeping bag does sound really, really cute. Some day, when you get a better computer and pictures aren't a chore, I'd like to see one. Thanks and take care.

• United States
4 Nov 08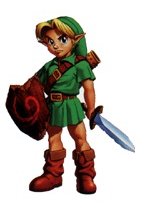 Here is a picture of young Link..My son had the sword, shield, (my daughters friend made that), fairy bottles, sling shot, boomerang, and a bow..We did have boot covers, but ran out of time to fit them onto his shoes.. As for pictures of the sleeping bags, I can get them, but it won't be until we can make it to the library again..

• United States
4 Nov 08
Cool, like little elves with attitudes, thanks and take care.


• United States
4 Nov 08
I love buying remnants of fabrics or trim that I wouldn't otherwise buy because of the expense. They are great for making crazy quilts and pillow tops and adding decorations to jeans and jean jackets. Some remnants are great for making hair barretts or bookmarks too. I have a room for my crafting supplies but everything else gets shoved in there too so it's more of a storage room than a crafting/sewing room. I'd love a room big enough for a large old table placed in the middle and a sink and a window for nice natural lighting during the day. That's a dream room!!

• United States
5 Nov 08
Crazy quilts are my favorite, esp. when made with velvet, satin, and so on. Next are t-shirt quilts when made with animals and other beautiful prints. Two of you, here add things to close you already have. I guess I should do that. Thinking about it, but haven't yet. Thanks and take care.

• United States
5 Nov 08
I don't know if that would be a problem or not. Since I'm sewing challenged, I haven't done it. Thanks and take care.


• United States
4 Nov 08
I have lots of remnants that I pick up. I have also made things from them. A large women's store closed near us and I picked a lot of dressed for the former roommate. Because they were the right size, but a bit shorter than she liked them I added fabric or laces to the bottom hem, the sleeves and the tops of the pockets. I "fancied" them up for her on remnents I had around the house.

• United States
5 Nov 08
How wonderful! Fancying this up sounds great! Unless I really, really dress up to go somewhere, I'm not a lace chick. Not a ribbon one either. But I do want to make a woven ribbon pillow some day and maybe even a wall hanging or a quilt if I can ever stop wrecking sewing machines (see the explanation I gave the responder below you if you want an explantion).

• United States
5 Nov 08
That was supposed to be things, not this. Thanks and take care.


• United States
7 Nov 08
First, I love remenants! When my daughter was little I made all of her clothes and they all came from remenants. As a single parent I couldn't afford to buy off the bolt! People loved getting the clothes that my daughter out grew because they couldn't find anything as nice or as well made in the stores. Now that my daughter is grown, I still use remenants. Only now I use them in my bear making business. I design and make teddy bears and use the remenants in their clothing. I even buy the remenants of mohair that the mohair suppliers offer at a reduced price. I watch for the colors I need and will dye them to the colors I need for the teddy bears. I also do a ton of recycling...not only the cans, plastic etc, but also I use fabrics, wood, zippers and what ever else falls into my hands. I also buy fake fur coats for teddy bears too. I hand wash them and line dry them before I work on them. I also use ultra suede jackets and leather jackets for paws and soles. I buy old pillows and wash them in a front loader machine at the laundromat and use the stuffing when I stuff the bears. I not only have an office full of supplies, but they are in waterproof containers on my pation, in my work room, in my garage and you name it I have it stored there!!! (LOL!) I do more recycling in real life too, if there is a way to recycle it, I do it!

• United States
7 Nov 08
I'm working toward being in a space (situation) like yours someday. Wish me luck and thanks.

• United States
7 Nov 08
Good luck on getting a bigger space for all your crafts and other desires. I would be in a tiny apartment right now if it hadn't been for my Mom leaving me the house. Actually it is a 10 X 57 foot mobile home with two pop outs and a screen room. We screened the patio many years ago because I don't let my cats roam free as I live in the country and have mountain lions and other critters that would take them out. The biggest part of being a crafter, in my opinion, is dreaming. Hold on to the dreams you have, nurture them, feed them, and feel free to dream them bigger and better and more of them! If we loose our dreams, what is there to aim for? Lots of love and lots of LUCK...Toni

• United States
7 Nov 08
THANK YOU so much for the best response! It seems like when I need a boost the most a myLotter seems to give me a best response. I got some bad news on Monday and I am working hard towards not being upset or scared! I had an MRI done on my right shoulder a couple of weeks ago and when I got the results on Monday they had found a "mass" in my left chest. I am trying to get a CT scan scheduled as soon as possible. The doctor asked if I had smoked, which I never have smoked, but I was exposed to second hand smoke from my Mom for the 17 years that I lived with her before she passed away. One of the effects from her second hand smoke is that I have adult asthma...now I need to hurry up and wait and see if the mass is the big "C"!! Then, along with that my daughter decided to email me and chew me out that I don't love her, have acted funny towards her family because of her husband's accident and that I should have aborted her before I had her if I wasn't going to love her or care about her. It was a gee, thanks a lot moment. I emailed her back and chewed her out and let her know what was really going on in my mind... Anyhow, thank you so much for the best response. They are the best "medicine" for me when I am having tough time...thank you, thank you thank you!!!! Toni


• United States
5 Nov 08
My definition of a remnant is material that is left over. It's a small part or portion that remains after the main part no longer exists. I do use remnants of plastic canvas sheets when making a smaller project and requires tiny pieces of plastic. I keep them in a separate bag. I can also use smaller, leftover pieces of yarn for a smaller project. Your pillow sounds interesting. You used a jean zipper? How did you work with a jean zipper? I suppose many people have sewing machines which makes it easier to work with but I don't and would never tackle working with a any kind of zipper.

• United States
5 Nov 08
True, any left over material can be a remnant. Easier definition than mine and more inclusive. I didn't work with a jean zipper very well. If the opening and the zipper had been the same size, that would have been a big help and if I could have found a way to conceal it or even make it not budge out, that would have been even better. So I'm not a really good one to ask. But a ready made zipper would have been flatter and worked out better or next time I'll take a seam ripper and take the zipper part only instead of cutting around it, that's way it bulged, I think, too much material. Martha Stewart on DIY had how to sew in a zipper on a pillow using a zipper bought in a store. Do you want me to see if I can find the episode for you? Next time I'll review that before I do it and hopefully I'll know how to thread a sewing machine without messing it up by then ( I won't hold my breathe on that, if my high school teacher and my Mom couldn't teach me...). .

• United States
7 Nov 08
If sewing isn't your bag, don't try it!!! I learned to sew when I was three, and have sewn for the past 50+ years. I have found trying to teach people who don't like sewing how to sew is nearly impossible. It is far more cost effective to send the items that need new zippers out to the cleaners or alterations people than to try to do it yourself. I did alterations for about 5 years (It paid for a couple of sewing machines along with helping support my daughter and myself) and you wouldn't believe the mess people can make of clothing by trying to "fix" a problem with such things as glue, staples, scotch tape, duct tape, safety pins, and even plumber's putty!!!

As for help threading your sewing machine, email me and I am more than willing to help out! I have had so many sewing machines and I also buy them, overhaul them and donate them to people who want to sew and can't afford a sewing machine. In fact my next project is to teach my sister how to sew as soon as I get a vehicle. If you have questions about sewing various materials feel free to ask. I work in fake fur, real furs (recycled of course), mohair, silks, satins and much more. I have spent 25 years making teddy bears and taught myself how to sew the real furs as well as the acrylic (fake) and mohair furs. Believe it or not it is easier than you think. My sister works in plastic canvas...she adores doing it!!! I have never really gotten into working in plastic canvas...but I admire those who do. I might get her to save her smaller pieces for you (LOL) especially if you have room for a ton of small pieces.


• United States
8 Nov 08
I do find that once in a while I see a craft project...and sometimes it's a free one at the store...then they don't have all the supplies to do the project with....I do have things that don't turn out...and that gets disgusting! LOL.....I do use end pieces once in a great while but really don't do that much sewing anymore.

• United States
8 Nov 08
Makes you wonder why they have free project instructions that they don't have the materials for, if they're in business to sell you craft supplies, doesn't it? Thanks and take care.

• United States
4 Nov 08
I think that your last two sentences sum it all up. I wish I had a project room, etc. I have all kinds of remnants. I have lots of started projects and not finished. I do not finish stuff for myself, even when I make things for others and succeed. I do not even want to think about what I have not done. It was good you gave him a choice. I recycle buttons, I have a bunch of jeans I would like to recycle. I would like to make a finish as you go quilt sometime out of denim and chambray.

• United States
5 Nov 08
I want to make a t-shirt quilt some day, I have some beautiful t-shirts. Animals, Native Americans, copyrighted art work, etc. Well, it was his birthday present. The material was soooo neat as far as the pictures go. I'm starting to need to recycle more jeans. I didn't wear jeans as a kid, my parents were anti-jeans and when I was teaching, I only owned one pair at a time. Since I haven't taught in years, I have jeans that are even thread bare. Let us know what you make out of the jeans. Take care.