Here is a pattern for really cute Christmas Stockings about 3 inches in height.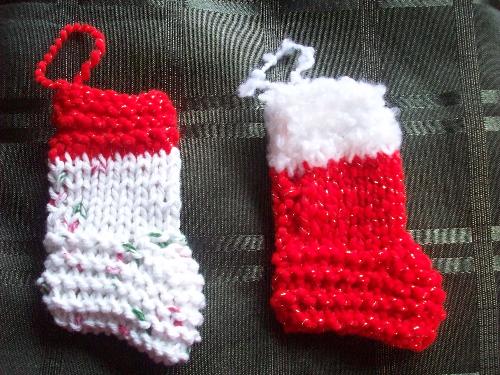 Canada
November 7, 2008 10:49am CST
I have been making these stockings for many decades. A neighbour taught me how to make them when I was 9. I have been making them every year for Christmas ever since. I thought that my knitting friends on myLot may enjoy this pattern as much as I have over the years. I take about an hour to knit one. I have even sewed on the letters Merry Christmas on to make a nice garland with one letter per stocking. They make wonderful gifts for friends. I gave a set to friends about 20 years ago and they still talk about them. A package of Smarties are cute to stuff into them and give with the person's initial on them as well. So I hope you all enjoy these!!

If you have any questions I will respond to them
. These are great for
craft sales
. People love them in different colours or offer to quickly sew on an initial for them while they wait. -Start with casting on 18 stitches to a size 4mm small needle -Knit a 1 inch top with a contrasting colour yarn. Approximately 7 rows. -Change colour of yarn and then knit one row and pearl next until you have 9 rows total of knit and pearl. -Next row is knit 12 stitches -Turn knit 6 stitches (this is for the toe) -Continue knitting on these middle 6 stitches until you have Knit a total of 7 rows -At the end of the middle section you will pick up 3 stitches along the side of the toe piece to fill in the hole created by adding extra rows. -Turn and knit picking up another 3 stitches along the other side of the toe piece -You will now have a total of 24 stitches on your needle. -Continue knitting another 8 rows -Cast off -Sew edges together in inside and flip right side out Voila you have a Christmas stocking!!

Let me know how they turn out for you. (
the one on the left in the picture is with a mulitcoloured yarn; the one on the right has a silver metallic thread in the yarn; in case you look at the enlarged picture by clicking on it
.)
3 responses

• Canada
12 Nov 08
These are cute. I also like the pattern in the Last Minute Knitted Gifts book.

• United States
15 Oct 11
aww this is a really cute patter for knitting stockings i have not tried it yet but i plan to eventually when i get some more time on my hands i love to make my own things instead of having to buy things from the store and knitting your own stocking could be cheaper than buying them and this way you could personalize them and give them your own little touch they would make good Christmas gifts also there are so many people on mylot looking for a good Christmas stocking pattern so thanks for posting