Do You Reserve Positive Ratings For Users Who Have A Star Rating Less Than Ten?

United States
November 14, 2008 6:23pm CST
I know, I know. I abhor star ratings whatsoever. But, it still a question that I have. :) If you respond to several interesting and worthwhile Discussions, do you tend to make sure to give a positive rating if the User who started the Discussion has a star rating of 9 or 8? If somebody has a 10, do you figure that they are already "perfect", and so you don't feel the need to make sure to remember to positively rate their Discussion, because they don't need the help, because they already have a 10 star rating? This is just something that I have always wondered. :)
6 responses

• United States
15 Nov 08
I've gotten some kind of compulsion to rate up ALL discussions, and some responses. I have no idea why I developed it, but as soon as I finished reading your discussion I gave you the plus, then I wondered what I just did, and why I didn't think about it. Your picture has such a nice smile, though.

• United States
15 Nov 08
That's probably a nice compulsion to have, because it helps out other people. :) Thanks for the plus! :) I will remember to return the favor! :) Thanks, I like my picture of Dan, too! :) I like your picture, too! :) Thanks for the response! :) Happy myLotting! :)


• United States
15 Nov 08
That is a good rule. The best get the best! Thanks for responding and happy myLotting! :)

• Slovenia
15 Nov 08
I dont have any rules with this matter. Its not like I always rate a person who started a discussion or who answered. When i feel like it I rate everyone on the page lol the other times I rate noone, then again I rate just one answer...you can just never tell with me lol

• United States
15 Nov 08
Rating everybody can be good. So can rating nobody. *LOL* Just do what you feel is best! Thanks for responding! :)

• United States
19 Nov 08
Honestly, I do rate all members who respond to my discussion. I mean "everybody" including those members who have 10 rating. They still need to be rated because as time goes by, the ratings will go up and down depending on how he/she is being rated.

• United States
19 Nov 08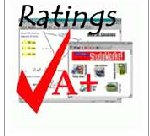 I personally don't pay attention to the star rating when I am rating. If the discussion that is started is good then they get it or if the response is good they get it no matter what. There are some people that have 10's by their name because doesn't really matter i the topic is good or not they just have a lot of friends that rate tem as plus and they do the same for their friends but that is okay. To each his or her own. But then there are some that have 10's that have awesome discussions. Shouldn't matter about the star rating if the topic is good they deserve the plus.

• United States
18 Nov 08
I have to be honest, many times I forget to rate entirely. Some days I am good about it, but other days, I just type my responses or go right to that person's page and completely forget to rate the discussion or the answer all together. I do feel bad about this though, but thank you for reminding me. I will make sure to rate your discussion. As for reserving rating no I don't. If I remember to rate things I will rate them. I don't have any method to my madness.