It Does Not Make Any Sense To Get A Job, It Makes More Sense To Do Business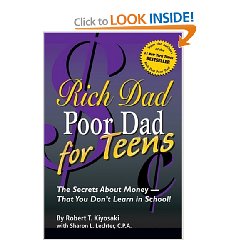 Malaysia
November 21, 2008 12:38pm CST
Robert Kiyosaki is a famous bestselling author of the book Rich Dad Poor Dad. He has opened multi-million dollar businesses, and is an excellent real estate guru. Robert stated that it doesn't make any sense to get a job. It makes much more sense to do business. Why? Why should you work so hard for something that you'll never own? You can't 'own' a job. You can't sell a job to someone. You can't pass on your job to your kids. It makes more sense to open a business and hire other people. A business has value, and it is something you own, meaning once it's in good operation you can sell it for a large profit, or you can pass it to your kids when you get old. Why should you work so hard for something you don't have control of? You might be a very good employee, but if your employer wants to downsize, and they want to fire you, they can, because it's their company. Or if a company is merging with other companies, the company that's taking over can fire you and you can't do anything about it. It makes sense to open a business, where you can choose if you want to expand its operations to increase your profits, whenever you want to. You can't choose to increase your salary at anytime you want. You can ask for a pay raise, but then again, it's up to the employer. But with a business, if you want higher income, you can always expand your business operations, and earn exponential income, instead of the linear income that a job provides. What do you think of this? I'd like to know your comments.
3 responses

• United States
21 Nov 08
The problem is that he does not discuss the downsides of owning a business. Nor does he tell of the time and money needed to get make the business successful or get a profit. There is a high rate of failure among those trying to start a business. Many of these people are wiped out of their savings, just trying to get a business off the ground. Nothing in life is a guarantee. Not everyone is suited to the amount of time, energy, money and attention a business needs. He needs to balance that statement with the downsides of owning a business.

• Malaysia
22 Nov 08
His book is a motivational book and discusses more on core values that's required for you to be rich. It's not an educational book. So no, he doesn't need to talk about the downsides, as that spoils the motivation that he's trying to get across to the readers. His job in that book is not to inform, but to motivate, to motivate readers to become rich. But if you want a book that informs, then go to the business section of any library in any university, then you'll find many, and in those books, they'll talk about the good sides and bad sides to business. You'll be informed, but you won't be motivated in any way. It's the readers' own responsibility to do his/her research. If he/she wants to knows more about business from various perspectives, or if he/she wants to know more about the downsides of business, then he/she needs to read other books as well Rich Dad Poor Dad, or find other information from other sources as well. Only after that, he/she can make a rational conclusion. That's his/her responsibility. Of course, there are downsides to business, just as there are downsides to having a job. There's always downsides to everything in this world. But then again, there's the advantages, and what one needs to do, is weigh them out, and decide what's best. When you do that, then doing business is definitely the better option. It does make so much sense to do business. Having a job takes more of your time, money, and energy in the long run, whereas when doing a business, you're only putting in the money, time and energy once, to build that system that generates cash for you consistently for a long time. The reason why most people wants a job is because they prefer to rely on others, instead of relying on themselves, and having other people relying on them. The richest people in the world are rich because of doing businesses and making investments, none of them have a job, so that's living proof right there. The reason why there are many people who fail businesses, is because they didn't do it with proper business concepts, and didn't have the core values of an entrepreneur. It's not business that's the problem, it's the person. If you want to be rich, you must find out what that 5% of people who're successful in business are doing, and follow that. Looking at what the other 95% people who fail businesses do, and consistently talking about them, will not help you to become rich.

• United States
22 Nov 08
I hate the unbalanced view. It tends to distort facts. Many small business have failed even before they got their feet off the ground. Millions of dollars and many have gone into debt just to try and get a small business going. Both sides should be presented so a reader can make up his own mind. I am just wondering if you are getting a percentage of sales for promoting this book and defending it so vehemently. Also, I wondering if you actually took his advice and started a small business for yourself. So, I am a skeptic but not everyone is cut out to run a business and they should do the research for themselves before making that decision.


• Indonesia
22 Nov 08
Hi there syfarisk, I am reading Robert Kiyosaki too. He is inspiring me to work alone, not with a bos, and maybe a business one day Happy posting always !! Great post!!

oxox'dian from bali island.

• Malaysia
22 Nov 08
It does make more sense to do business, because as it is said in our religion, 9/10 of rizq or income lies in business. I accept this teaching not because I am a blind follower, but because there are proofs around us to back-up this argument The main problem is start up funding. Many of us who want to do business do not have any capital. In addition lack of experience and other resources are also stumbling blocks. This is one of the reasons why many people work for someone else instead of being their own boss. In my case I have lost several business opportunities because of no funding. Borrow from a financial institution? They prefer established organisations and experience. So arguing and proving that it makes sense to do business should have been followed with guidelines on how to start one from scratch.

• Malaysia
22 Nov 08
The problem with most people wanting to make more money in business is that, they feel the need to start a big business right away. You don't have to, really. In fact, there's a statistic that says that 75% of rich people in this world actually come from poor families. Start with something small, such as, personally tutoring secondary school children. By doing that, you get out of the employee's world, and you become a self-employed, or a small business owner. It gets you in the mood and gives you that momentum You make that side income, and save them, make investments, multiply the money you make. From there, you find ways to expand, and the money you make, only then you use it to fund another business. KFC started as a small stall on the side of the road, selling fried chicken. Microsoft started as a small business that Bill Gates does from his own room. Warren Buffett used to buy cans of coke in bulk, and sell them at the streets. If you want a good example of a way you can make that shift from being an employee, to being someone in business, do network marketing, or direct selling. With a low start-up cost, you can have a product, and a company to do business with. You don't need to worry about the rental costs of premises, manufacturing costs of the product, costs of employees' salaries, and etc. Network marketing is a great platform that provides you that path to move into business. You are given the time and space to slowly develop. By attending network marketing companies' trainings, you get the opportunity to absorb those business values, and be with business people. You can make leveraged income with network marketing. From there, once you have that income, you can use it to fund another bigger business, or join a franchise business. You proceed with expanding your income from there. That's how giant corporations are, by people who start small, and slowly and productively make the expansion and transition. You can't build Rome in one day.