When do you start sending out your CHristmas Cards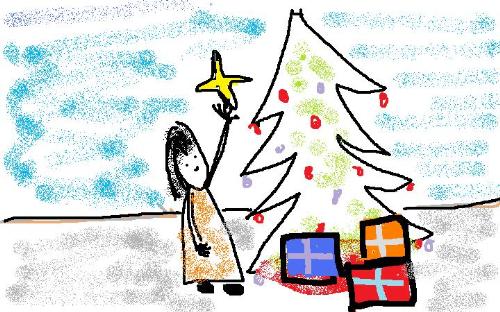 United States
7 responses

• United States
27 Nov 08
I usually get greeting card Christmas cards with a Christmas photo of my children in it. I usually had them done at JCPenney or Wal-Mart but this year money is really tight so when we get our Christmas tree then I will dress up the kids and pose them around the tree. That is what I will have my Christmas cards made from this year. As soon as they come in then I will get the envelopes ready for mailing.

Thanks for the reminder - this year has really just flown by!

Have a great day and happy myLotting!!!


• Canada
26 Nov 08
i will probably start working on them next week because it is the first week of december. i probably wont send out that many cards this year, perhaps a half a dozen or so because since the stamps are so expensive, i will hand out them personally (54 cents a pop here in canada).

• United States
27 Nov 08
Really 54 cents..well we are getting pretty close to that with our price of stamps. How much does a box of CHristmas cards cost?

• Canada
1 Dec 08
I always get Christmas cards for the next year on Boxing Day really cheap! I agree that here in Canada the cost of stamps are getting bad!

• Jamaica
27 Nov 08
Hi little franciscan, (love your name!) Well, in an effort to cut down on expenses this year I am not sending out many cards. In fact - only five. Two cards to two sons who will not be with me at Christmas. Two more to each of my sisters and one to my grnadson who will not be here. I bought them yesterday and was horrified at the cost of buying just 5 cards! Unbelievable. These cards wil be sent out this coming week with z photo enclosed of me with 3 of my grandchildren. That's it. We are only giving token or funny gifts to each other and will make Christmas for the children - my grnads and other children in my life. However, I am so grateful that I wil have two children with me at Christmas and three grandchildren and for this I give thanks.

• United States
3 Dec 08
It is cheaper to buy a whole box of cards than just a few. I only plan to send out probably the same amount as you, but I will buy a whole box anyways. If I don't use them this year, I'll use them in future years. I also use them to give gift cards to the kid's teachers and to our mail carrier and such.


• United States
3 Dec 08
Past years I haven't sent any, but this year I think I will send a few. Not many, I really don't know a lot of people. In past years when I did send cards, we never got one in return from that person, so I stopped bothering. But this year we're going to take a family photo, so we'll send that out in a card to a couple people.

• Denmark
3 Dec 08
Every year I decide to send out my christmas cards as early as possible. I would like to write them in the first week of December, but I never manage to get it done. I always end up writing them at the very last moment. I have lots of friends from abroad and I would like to write all of them, but that project is too ambitious and I usually have to cut back on the cards I write. I admire people who write 30 or 40 cards every year, I wish I could do the same, I just can't seem to get it done despite all my good intentions


• Canada
1 Dec 08
Since having our daughter in 2006, every year my hubby and I write up and send out our Christmas cards as soon as we get our family pictures back from Walmart. We get them done there every year because all of my family lives far away so they hardly ever get to see our daughter. That way every year they can see how much our daughter has changed over the year. I know my Grandmother in Australia really looks forward to it as she has never my daughter! PurpleTeddyBear xx