The designer of Australia's most famous landmark has passed away.....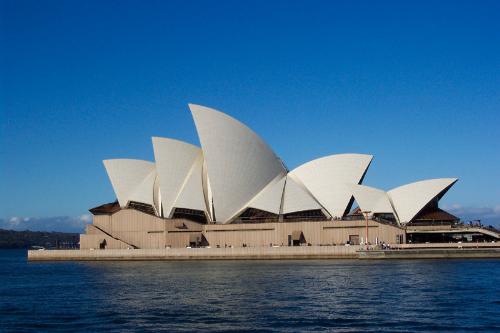 Australia
December 1, 2008 1:43am CST
I am sure that pretty much EVERYONE has heard of the Sydney Opera House? What a lot of people may not realize though, is that it was not designed by an Australian at all; and was designed by a Danis Architect named Jorn Utzon. What is interesting is that he never even got to see it finished! http://www.iht.com/articles/2008/11/30/europe/obit.php This is one very recognized architectural landmark in the modern world and it is a sad day to have the man who designed it leave this earth. He will certainly never be forgotten with such a distinctive styled building. RIP Jorn Utzon.
6 responses

• India
1 Dec 08
Thanks James for paying tribute to such a great Architect. If I am not wrong, I have seen the interior in one of the movies. And it was so grand and the effect is instantaneous! I had a great ambition to visit this opera house, the great sea shell structure, in future. I salute Jorn Utzon and pray for his soul. Thanks.

• Australia
1 Dec 08
Daffodil has mentioned a movie above that used the Opera House for a certain scene, so for sure this is the one! The acoustics in this building are absolutely amazing and the way it has been set right on the dge of the waters of Sydney Harbour; and right next to the Sydney Harbour Bridge have made it one of the most recognizable icons in Australia. I hope you do get to visit it one day because it will definitely leave a lasting impression. RIP Jorn Utzon and my hat goes off to you for leaving such an astounding structure as your legacy. Thanks for the response mimpi.


• India
1 Dec 08
I just hope to visit Sydney Opera House in near future. On of my aunts live there, may be I will land up there soon. It's a mesmerising place and the beautiful architecture has been haunting me for years now..


• India
1 Dec 08
I have seen the images of the opera house a number of times both still and TV ones and have been a great admirer of this Landmark. If i may not mistaken they always have great fireworks display every new year along the backdrop of the magnificent structure. I did not know about the architect and thanks for sharing this James. It's sad that he did not get to see the landmark be completed. Will look him up to learn more about him.

• Australia
1 Dec 08
Yes you are definitely not mistaken alok and each year they have a massive fireworks display in the Sydney Harbour to send in the New Year! It is an amazing sight with colourful explosions over the Harbour Bridge, Opera House and with Centrepoint Tower in the background as well. Many people go out in to the harbour in boats and it is a tremendous affair. They also have displays throughout the year for other occasions, but New Year is by far the most spectacular. Thanks for the response and good luck finding out more about the Architect. Many people immediately assume that an Australian designed it! He has been survived by a wonderful structure though so his memory will always live on.


• Australia
1 Dec 08
I haven't attended and actual concert in there but I have been inside it while an orchestra was practicing. The acoustics are unbelieveable and there are extremely high ceilings and wood everywhere to help carry sounds. And you know by now that questions are always welcome mate! Here is a link that may be of interest: http://www.archiplanet.org/buildings/Sydney_Opera.html


• Australia
2 Dec 08
It is true that Jorn Utzon did not ever see the Opera House when it was completed as he left Australia to return to Denmark before that happened. His plan was fantastic but unfortunately through the entire building process there were many problems on the site. In addition the costs continued to escalate and were very much over budget almost from the beginning. That does not take away from the beauty of the Sydney Opera House though or the design that Jorn Utzon created but is a brief explanation as to why he did not see the finished masterpiece. It has beeen said by many that his design for the Opera House was the best he ever did in all his years as an architect. The money to build the Opera House was raised by what was then known as the Opera House lottery. The Government licenced the Opera House commitee to raise mioney by selling lottery tickets and from memory there was a draw every few days. This was before Lotto, Bingo etc ever existed so of course it was a great attraction to many people. Jorn Utzon was invited back to Sydney and Australia several times after the Opera House was completed but always rejected the offers. The last invitation was only a couple of years but he declined the invitation due to his age and the fact that his health was already failing. Other members have done a brilliant job of explaining and describing the Opera House so there is no need for me to repeat it again. I will simply say that it is indescribably beautiful and particularly when viewed all lit up at night. The Sydney Opera Hiouse is unique and one of a kind, the likes of which will never be seen again.

• Australia
3 Dec 08
Wow oldboy! These points are very interesting and I was not aware of each and every one of them at all. It's a shame that Utzon never accepted invitations to come and view his masterpiece and I never realized that lotteries were used to raise funds to pay for its construction! You are very right in saying that the likes of the Opera House will never been seen again as it is very unique, unbelievably striking; and Utzon will be remebered forever because of it. Thank you for the response mate and for sharing these new facts.


• India
1 Dec 08
Heard of and seen so many times on TV and in movies too.The scene in "Dil Chahta Hai" with Aamir and Preity watching the love opera in "The Opera House". Unforgettable. Its an architectural genius. Looks like lotus petals but facing outward. We have Lotus Temple In New Delhi which is also similarly very beautiful. Sorry to hear of Jorn Utzon's demise. He being a Danish architecture designed Sydney's Opera House!! Wow. I didn't know that. Thanks for Sharing it with us. May the soul of this brilliant genius rest in peace.

• India
1 Dec 08
I agree Daffodil. It indeed resembles Lotus Temple and how can I forget that moving scene from DIL CHAHTA HAI. The gradness of the House did the magic I guess. Kudos to Mr, Jorn Utzon.


• Australia
1 Dec 08
You have described it very well Daffodil! A Lotus flower petals is an apt way to put it. It is such a prominent landmark in the Sydney Harbour and when you fly into this city, the planes always go directly over this building as they approach the airport. It's an amazing sight! I have not seen the movie you have shared but they certainly picked a wonderful location for an Opera scene. I dodn't hink that many people would have realized that the Acrchitect was Danish, so I am happy to share this. He was a genius indeed and his legacy will remain for a long time to come. Thanks for the response.


• United Kingdom
18 Feb 09
Sydney opera house is my favorite building in the world. I went to Sydney in 2000 and spent much time there. Sydney is my favorite cit that I have been to in my life so far. I love seeing attractive looking architecture. I would like to say "Rest in Peace Jorn Utzon" because I think he was an amazing person. I am sure that he will be missed.

• Australia
18 Feb 09
It's an amazing building, no question! You are very fortunate to have seen it. Sydney is certainly a beautiful city too. Personally I love Perth City the most, with Kings Park overlooking the Swan River from the city's edge.

Jorn Utzon had a very unique talent and his work is world reknown thanks to such a unique building like the Opera House! Thanks for the response maximax.



• Australia
1 Dec 08
Kudos to him indeed! I am sure he faced much opposition when he first laid out the plans for this buidling; and now look how famous it has become! It is right on the edge of the city but because it is also positioned at the edge of the harbour as well, it stands out proudly and does give a feeling of peace. It's size is impressive also. I am sure that in my country right now they would be paying tribute to this great man and it is fitting because he sure does deserve to be remembered for his contribution. Thanks for the response riya.