Can New Yorkers Trust Their Own Government??? Can you???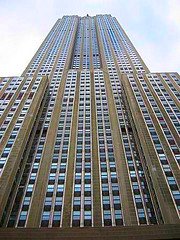 United States
December 5, 2008 8:56am CST
http://www.foxnews.com/story/0,2933,460866,00.html When I first read the subject line of my email, I thought it was going to be a joke. Apparently New York City sold the Empire State Building in less than an hour & a half. We ALL complain because we have to prove who we are. This shows we cannot be too careful. The people in the USA need to keep their eyes open!!! As it turns out, this was not done with malicious intent....but what if it had been??? Have we ALL become too complacent??? Do we have any idea what is going on under our own noses??? Could something similar happen in your home town??? Do you have an idea of a better way to handle things like this??? Help me come up with a solution here folks!!!
7 responses

• United States
15 Dec 08
Wow the paper stole the empire state building in such a way to make it look legal. Something needs to be done. Here in CA before title is turned of a building is turned over there is an extensive title search, ID's checked an a whole bunch of other things have to take place. You have to sign your life away just to get the title turned over. I wonder if it could happen in CA.

• United States
15 Dec 08
My guess is, it could happen anywhere. Here, you MUST be able to prove who you are also. I was shocked with all the terrorism in New York that it was so easy to transfer titles. This was hushed up real quick. I just wonder if the clerk is still with them??? I really can't believe that they don't have some kinds of STOPs in place to keep this from happening as anyone can make a mistake!!!

• United States
6 Dec 08
Obviously another overpaid, underworked civil servant is snickering knowing that they can screw up all they want and no one cares. ANd this just goes to show - we have people who work doing crappy jobs and then NY can't balance a budget and operate in the black...maybe start firing incompetent, uncaring, inept individuals for people who do work and they can probably cut staff by a third.

• United States
6 Dec 08
I think they need to start with the Mayor & work their way down. As I said earlier I was told my job was to work NOT think!!! That was after I kept a client from losing over $100,000. I'm sorry, I felt I should have gotten a little credit for helping a client & making the company look good. But, NOOOOOOOOOOO, I was reprimanded for NOT doing my job!!! I worked in customer service & I was servicing their customer. I still don't understand what I did wrong!!!To those of us old enough to remember the 1933 version of King Kong with Fay Wray, it sounds ridiculous to not catch the obvious pun. However, the city chose to let go the older, trained personnel in order to hire cheaper labor. My guess is that this clerk has NEVER seen King Kong & had NO idea who Fay Wray was. Most of the time, you get what you pay for!!! Obviously there are NO checks & balances in place to keep something like this from happening. This points as much to the top dogs as it does to the untrained personnel!!! I agree that the latest pool of workers leave a lot to be desired. I also feel they are NOT expected to do any better. If they think for themselves, they might see the error of what is being done & report it.


• United States
5 Dec 08
It just proves that many people are just bodies getting paid rather than actually do their job, properly. I am amazed, but then again, I am not, because the work ethic of much of this generation is horrible. Ok, not stealing a national monument, but the other day I went to Wendy's for a 99 cent burger and 99 cent drink. I asked for a value drink and the burger. The cashier said, $1.06. I said that he forgot the drink and he told me that it is free. What?!! Who told him this? I let it slide but I should not have. I guess I just wanted to get out of there as I had a short dinner break. I wonder if I will get this clerk again and if I do, I will notify the manager. When my cousin owned a roller skating rink and teen night club, he started making people not just fill out applications but take an intelligence test. He showed me the test and some of the questions, that some people got wrong were, "Who is the current president?", "What country to you live in?", "What continent do you live on?" and more, what I considered, ridiculous questions. Can you imagine not knowing the answer? It comes down to two things, complacency (why do a better job if they pay you to sell a building illegally?), and stupidity!!

• New York, New York
5 Dec 08
It's a shame that the bogus transaction actually went through and no one picked up on all the "clues" that were there. Come on, "Fay Wray" as a witness to the transaction? What a joke and bogus real estate transactions like that do really happen.

• United States
6 Dec 08
It is sad that people don't take pride in their work anymore!!! This day & time it is considered time wasting to actually think & ask questions. With everything that has happened in New York, I would think they would be EXTRA careful. What if...it hadn't been a newspaper proving a point, but had been part of a terrorist group proving a point??? I would venture to say that the clerk who was handling the transaction was too young to even know who Fay Wray was. The King Kong he/she would remember would star Jeff Bridges & Jessica Lange. Why would he/she want to watch a black & white movie that was made before his/her mother (maybe even grandmother) was born???

• United States
5 Dec 08
We have never been able to trust people in Government and never will be able to. The reason is very simple. The future of the people in office depends on them staying in office. If they loose their seat then they are out of business. This means they must depend on the right people that can get them reelected. This is not the general public. The politicians do not work in the best interest of the public. They work in the best interest of the money people that can help them stay in office. There is only one answer to this problem. The general public have no business voting anyone "into" office. They have no idea who is best qualified to hold the office. Obama is a good example of this. He was the least qualified of the final 3 or 4 that were running for President. However the people do need the right to vote people "out" of office in a very short time. If any politician knows they can be voted out of office within 30 days then they will straighten up their act and start working for the people that can vote them out. We need to vote in a panel of say 12 people that appoint people to the different offices. Even this panel can be unseated within 30 days if they don't appoint people that work in our best interest. We must take the control of our government out of the hands of the big money people. If I am working on a job and I don't perform in a way that pleases 5the ones that are paying me then they have every right to boot me out the door and hire someone that will. We have the same right with the people that are supposed to be working for us in Washington. Also no bills become law before the public vote them into law. This may mean we must go to the poles and vote every Tuesday but if that is what we have to do to straighten this country out and take it back then that's what we must do. As long as we the voters set on our buts and let others think for us things are not going to get any better.

• United States
5 Dec 08
Arkie, you're right. If things continue on the way they are, we will never be able to trust our government. The politicians are gonna continue catering to the people, the ones with money and power, to help them get and keep their position in politics. And I agree that as voters it is up to us to take responsibility for our country and our government to make a change for the better. I can't agree, however with the idea of the general public having no business voting anyone into office. It's true that many people don't know enough about government and how it works and about the cuurent issues we face everyday; and therein lies the root of the problem - education; or better yet, the lack thereof. I don't know if you were using that idea to make a point or if you really believe in the idea of the uneducated public not having the right or the business to vote people into office, but the truth is, when we even begin to entertain ideas such as that, we run the risk of transforming our Constitution and our country into something other than what our forefathers envisioned, something far short of the free Republic they founded. The only real way to begin changing our country for the better is to educate people, not only on the political history of this country but also on the Judeo-Christian heritage that it was founded on. So much of the public today, especially the younger generations, are being taught a false history about our country and how it was founded. And it's up to those of us who really understand this country's history to tell people the truth. If we don't, then who will? So many of our politicians today have sold out to greed and power and the idea of transforming this country into something other than what our founding fathers intended. As you said, we can't trust them. No, we the people must take on the responsibility to turn our country around. And education is the key.

• United States
5 Dec 08
When our forefathers set up our voting system it worked great them. The voters were a lot closer to the people that ran for office and were able to make a more intelligent decision about who to vote for. Now with TV being used to "Inform" the public concerning a politicians qualifications we are being conned every way possible. For one thing if we are going to vote people into office we must be able to base our decision to vote for them on what they have actually done and not on what they say they will do. This wasn't hard to do in the early days of this nation but now everything is so twisted and altered you don't who or what to believe. A lot of people in Washington knew a lot more about Obama than the general public did.

• United States
5 Dec 08
That's right. That's why education is so important. With freedom comes responsibility. And if we want to retain our freedoms, one responsibility we have is to educate ourselves constantly. We must stay in touch, on a daily basis, with what our politicians are doing. I remember people saying during the campaigns that government has become so out of touch with America, with the general public, or something with that effect. But, I think they have it backwards. It is us who have become out of touch with government. The people in government are not dummies. They know that the less we understand about how our government works and what it is doing translates into more power for them. And they manipulate that for all it's worth. Look at it this way. If we give up the right to vote someone into office due to ignorance of the facts of their qualifications, how can we in all honesty be expected to "know" enough to make the proper decision of voting them out of office. And you can pretty much take it to the bank that sooner or later the politicians are gonna make that argument. By saying that we shouldn't have the right to vote someone into office because of "that" lack of knowledge - and it's true, many people don't have a clue what their politicians really stand for - we are taking the power out of our hands and putting it into the hands of the very people we can't trust.


• United States
6 Dec 08
Unfortunately, I don't trust any government. I never will. I have no solutions, sorry.