hallowed be thy name(iron maiden) or unforgiven too(metallica)--which one??

India
December 7, 2008 10:45pm CST
i cant see a duel between dese two songs..nd dis is one of the decissions i am still unable to take...both rocks me...both makes me cry..both i sing..both r consist of superb lyrics...xtreme music..nd both the bands r inexplecably good hence u decide...gotta surely mark a best response ...promising \nn/\nn/
7 responses

• Sheboygan, Wisconsin
8 Dec 08
Now that would be one awesome duel... and a Metallica/Iron Maiden Tour would be more than any living person has the right to even hope for (unless of course, they have been in concert together and I didn't know it... if they did and anyone saw it.. I am forever jealous!) But anyway! I gotta go with Hallowed Be Thy Name on this "battle of the records". Hallowed Be Thy Name takes us more places musically than Unforgiven too... and besides, Iron Maiden NEVER sold our nor did they ever stoop to taking on Jason Newsted as a "bassist". Long Live Cliff!

• India
9 Dec 08
well researched..nw tym to giv ur prize..bingo...am going to see them--iron maiden--bangalore-15th feb..i must be present dere..


• India
25 Dec 08
Tough ,... but il go with Hallowed by thy name,...


• United States
8 Dec 08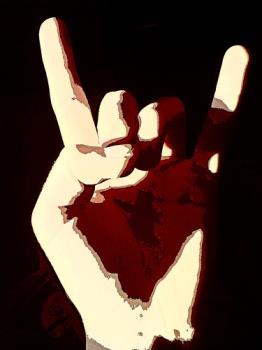 gotta go with "Hallowed Be Thy Name" out of those 2. i give Maiden 2 fingers up. (see picture) Rock On debopriospeaking!!!


• United States
8 Dec 08
In my opinion it's an absolute no brainer...Tallica! I loved the original unforgiven but unforgiven ii has something special because it brings it down a couple notches. It starts out with the same build up and then you're like, "ah ok it's unforgiven "II"..." totally different feel and far more enjoyable to listen to than any iron maiden song.