the coolest answer of the little girl!

Germany
December 9, 2008 9:16am CST
in my area there is 3 days christmas market so we saw the christkind.(santa claus) so my neighbor ask to my little girl.do you make a wish to the santa Claus? my daughter answer i did not because its not real Santa


.i post this just wanted to share the coolest answer of my little girl.happy holidays everyone and enjoy wrapping the gifts

.you dont have to wrapp my gifts!i accept without wrapping.
10 responses

• Philippines
9 Dec 08
wow your little girl are very matured... like her mama...

like they always say.... like mama like daughter...

• Philippines
9 Dec 08
seriously san nagmana si bunso? hehehe i know from her mommy cuz her mommy are very brainy....



• Germany
11 Dec 08
uhhhh?am i brainy?hmmmm i dont think so

.



• Germany
9 Dec 08
hehehe thanks and the story about your grand daughter also cute

.


• Philippines
11 Dec 08
I find it sad I guess that I girl no longer believes in Santa. I hope she would still enjoy Santa even if he isn't real to most people. I am for Santa and as much as possible I want my children to enjoy believing in Santa. It's what Santa represents that just fires me and its giving during this season of love.

• Germany
11 Dec 08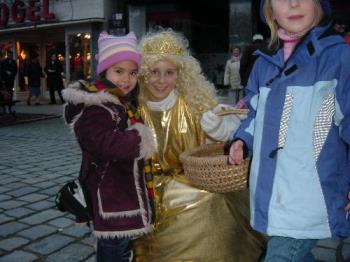 but thats what her belief she does not want to believe the santa.anyway maybe because in germany its not santa.the santa is in American. in germany is Christkind because they insist that santa was not there when jesus born.only the christkind was there.by the way she looks like angel i will attach the pic for you ok?

• Australia
10 Feb 09
Those mall Santas are a hoax!!!?????!!!!

I never should have believed that impostor.


• United States
11 Dec 08
[i]Hi bombshell, hahahhaa...I remember a movie about this and it was also a little girl, just forgot the title! Anyway, it's very cool! LOL! Happy Holiday also and more more blessings,,,I will ask Santa to drop my gift for you! LOL![/i]




• Germany
11 Dec 08
thank you che.i am looking forward that santa is coming to my town hehehe





• Philippines
13 Apr 09
I believe I missed this discussion of yours five months ago. I've been off myLot thats why I wasn't able to answer this.. :) Anyway, your daughter is the exact opposite of my daughter, You know here in our country, Santa Clause is real for most kids during Christmas time.. I find it funny because my daughter will ask me if its Christmas this early April because she like to see Santa Clause daw! LOL! Have a great day friend!



• India
13 Apr 09
I always like to believe in Santa Claus even when I have grown. It is always great to to believe in Santa Claus. When we were young, we used to write long letters to Santa Claus tell how good we have been and what are the wrong things we did and what all the gifts we wanted and used to but the letter in a bag and hang the bag somewhere in the house. Most times we get some sweets or gifts in the bag next day I think most probably put by others. There are lots of happiness when we see sweets and gifts in the bags.