I was wondering?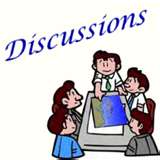 United States
December 17, 2008 7:11am CST
Do you ever find youreself going back and looking at discusions you start and say to youreself I can't beleive that I have been here this long and I can't beleive that I started that discussion I know I find myself doing it and then I also find myself saying it has been a good year for me here on mylot met alot of nice people on here and got into some good discussions.
2 responses

• Philippines
21 Dec 08
Oh yes, I do find time to check and go back reading my started discussions as well as my unresolved ones. I would likewise find some time to read responses on my discussions and rate them or if I do have so much time, I will respond to them, too. Going back to my discussions and rating mylotters for responding on my discussions is just my way of thanking and rewarding them for sparing their time responding on my discussion. It's always been a wonderful feeling that I made a choice to go back to mylot after a long time of being inactive. Perhaps, I have done more. But, it was never too late for me and this year has been a good opportunity. I would remain here because am enjoying it. HAPPY HOLIDAYS!!!



• United States
17 Dec 08
Yes, I go back and review my discussions and the discussions that I responded to. It can be interesting. It has been a good year. Not as active as last year, but still active. I am looking forward to next year. I hope there will be some new and interesting topics.