What do you do with the left over turkey?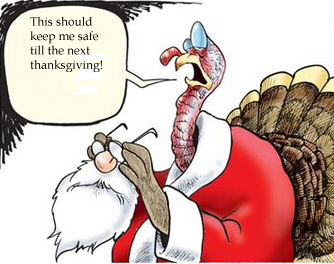 December 25, 2008 2:55pm CST
Tomorrow i have got an idea for turkey brest. I will roll some haggis into a sausage shape and fry in garlic. I will then wrap the turkey brest round the haggis and pour some whiskey sauce over it served with boiled potatoes and carrots. (Whiskey sauce- fry onions and garlic for 5 mins, season, add 300ml chicken stock and reduce by 50%, add 4 tablespoons of good whisky and reduce by 50%, add double cream, stir in and bob's yer uncle!) what do you do for dinner on boxing day?
3 responses

• San Marcos, Texas
25 Dec 08
Sorry don't have leftovers...I had 3 grown Sons and a Son in Law, plus 2 daughters and a daughter in law and numerous granchildren..leftovers are rare in my house...but throw me a sandwich and i'll have it for lunch tomorrow too..

• United States
25 Dec 08
Whoa,you sound like Chef Ramsey!-stepping back-:) I had two thirds of a turkey left from Thanksgiving and the only thing that came to my mind were turkey sandwiches. Good but boring... And that's for 2 weeks until the turkey became everyday food for my dogs.

• United States
26 Dec 08
Wow! Your ideas sound so much better than mine. I would make turkey sandwiches and turkey salads.