Boys or girls?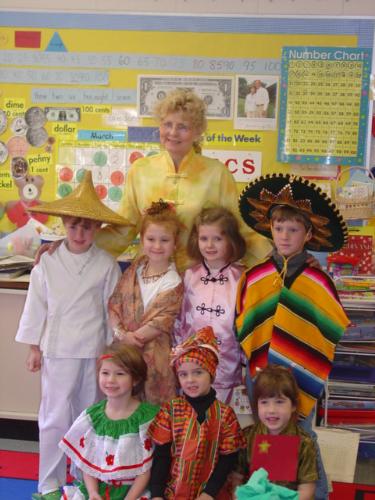 United States
January 8, 2009 11:40am CST
I was just thinking again...as sometimes do...Do you think boys or girls learn faster or quicker? I always thought that girls caught on faster to concepts taught or just reading or math in general. Yet lately I have experienced that boys are sharper than I once thought at catching on to these things. What has your experiences been?
8 responses

• United States
8 Jan 09
Well... I don't think that it's about gender. Because I am still a student and I was brought up to learn very quickly. In fact I just finished high school and I missed two whole terms of work and I still scored in the top of the class. So it does not really have anything to do with gender. It has to do with the home, probably genes and how the child grows up. Also things in the environment. But that's about it.

• United States
8 Jan 09
Thanks for your input. Every thing matters when it comes to children.

• India
8 Jan 09
I am a student and I also teach kindergarten students. I believe that intelligence or sharpness depend on gender.It depends on the social background, will to succeed, nutrition provided and the family environment. Its an individual developmental process that decide whether a person is more or less sharp..not gender...I have experienced this myself in my students and I have myself performed quite well in my engineering exams better than few of my male friends...A boy topped the department in 1st semester while I topped in 2nd

...So it doesn't depend on gender cause none among the two of us had changed their gender

...You are so much like my mom who also believes that girls are more intelligent(I'll be happy if that was the truth

)... Have a nice day!

• United States
8 Jan 09
New ideas about this are everywhere. Thanks...verdict still out.

• United States
8 Jan 09
In my experience I haven't really noticed a difference. I have three boys and a girl, and my brother has two girls. All six children are very intelligent and seem to catch on to concepts very quickly. The difference seems to come in their personality traits that affect learning such as optimism, or laziness. We encourage them all to do and be their very best, and that is what we get out of them.

• United States
8 Jan 09
Yours certainly sounds like genes. Hard to know the truth even if that really matters. Thanks for your response. Happy my lotting.

• United States
9 Jan 09
I don't think it really matters on gender whether who learns faster I think it is more based off of motivation to want to learn the subject. If a child doesn't have interest in a subject then they aren't going to learn it very fast because the lack of motivation will be there. That was some of my problems in high school because all the topics just didn't apply to my life at all. I think that schools can brainwash you into thinking a certain way and I think that we should keep our minds open to everything because we will never know it all.

• China
9 Jan 09
In my opinion, both boys and girls have there own merits. Maybe for something like language or art, girls can do better in than boys. But for something like logic or maths, maybe boys can think smarter and sharper on catching on to those things. For example, my boyfriends usally thinks faster than me.

• Malaysia
9 Jan 09
Studies have shown that in general boys and girls use different parts of the brain in their everyday lives. Boys tend to excel in logical subjects while girls tent to excel in subjects or tasks related to emotions. That is why at an early age girls are better than boys in learning languages. In reality it is not clear cut with males having some feminine traits and vice versa. Of course the way they are brought up modifies their ways and behaviour. As a former teacher and a father of many kids I can attest to the general findings. It is up to us, the parents, to ascertain in which direction we want our kids to go to. As for teachers they need to apply a different set of rules for each gender.
all the best,

rosdimy

• United States
9 Jan 09
Hey jordan! I used to think that girls were faster learners when it came to math and reading concepts too! But, as you I am beginning to change my mind a bit! I don't think that is so true anymore! I think that boys are just as quick to learn or quicker in some cases! In fact, when it comes to computer concepts I think that boys may be even quicker at picking that up than girls are! I think that things may be shifting in the way things are being learned now as compared to the way they used to be years ago. The computer age has changed many things. Children are growing up with a mouse in their hands and are being taught to use a computer at a very early age now, long before they are even anywhere near school age!

•
8 Jan 09
I think it all depends on the child whether it be boys or girls,sometimes boys like to learn about what interests them and nothing else to a certain degree.I found little boys a bit slow to start as they like football and messing about.little girls like to show how clever they are and are very competative trying to out wit each others then they seem to slow down just at the same age little boys then take off and they learn to take an interest in others things other than football or cricket.It is a fact that boys have more scientific than girls although my daughter was good at science.When we were taught at school to cook and sew.art.ect but the boys were taught woodwork, metalwork,gardening.The girls were trained to be mothers and housewifes and the boys were taught a trade in order to be good husbands and providers.It is different these days girls are taught the same subject as boys.So the world is open to both sexes and there are no differences now thank goodness.Like I said it is down to the child in question everybody learns at different times and different ages,there is not a lot of difference as far as I can see.