Despite our differences, underneath it all we are all more alike than different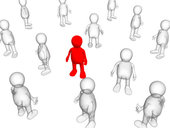 Canada
January 12, 2009 11:01am CST
I recently started a very "heavy" topic, elsewhere on Mylot and put to it bluntly, I need to balance the positive with the negative. It is a very serious discussion and has evoked strong emotion for me as well as some others I'm sure. I wrote that despite our many differences, underneath it all we're all more alike than different . While I support individuality, and diversity, I want us to focus on the ways in which we are all the same. Please focus in this discussion on the ways we are more alike than different. What is common in our experiences as a human being? As always, your thoughts and comments are appreciated.
10 responses

• Australia
13 Jan 09
I would agree with that. We are all human beings and we all need and want emotional security and I would also say some form of financial security. How we view these things will differ according to different cultures but the basic need will be there. The biggest problem that this idea faces is the male female differences. I think you will find few people who would agree that we are similar. Most men are so terrified of their female side, unless they are gay, that they will do anything to try and suppress it. Not all men are like this. Many women will try and suppress their femininity as they believe that they will never be accepted at work unless they are just like the men. They are all wrong of course and these attitudes just keep them from forming effective partnerships and then they wonder why marriages never work. I have despaired trying to understand the attitude that causes this division between men and women but I am still convinced that they are more alike than either of them want to admit.

• United States
12 Jan 09
We are indeed all brothers and sisters. Think about this: we're not different colors; we're different shades of beige, brown, etc. We all believe in highter powers, including those who claim not to believe -- wait until they're in need of help or health! We are all creatures of our upbringings, and those are the only really substantive differences. We must be tolerant and coexist!

• United States
12 Jan 09
well if you dont mind the bluntness we all okey maybe i wont use the detail i was going to originaly but we all have bodily functins that act the same. lol as far as religion and belief they all stem from the same things so they are all almost exact carbon copies of each other. we all have a deep need to survive. we all have the same blood okey maybe not type of blood but it all spills red.

• Australia
13 Jan 09
But we do all have the same type of blood, no matter what colour or nationality or gender people are most people are type 0. There are only a certain number of blood types and they are the same across all races and genders. The rest of the differences are cultural, they are socialisation and they are only surface. As humans we are all the same.

• United States
12 Jan 09
Well for one thing we all breathe, eat, and sleep pretty much the same. I am pretty sure I put my pants on the same, as every other human being. All humans love, live, learn, feel sadness and pain, judge, like or dislike, grow, trust or distrust, lead or follow. It is all a matter of you are.

• Canada
31 Jan 09
Wow, Melissa there sure is a lot of meat to think about in the three lines that you have posted. I think I will just leave it at that, the only thing that I might add would be that are all comes down to personal choice and to one chooses to be. Thank you for the response and as always happy Mylotting!


• Brazil
13 Jan 09
What I like most about mylot is that most people we find here show to be real human beings. It´s strange cause we don´t see each other face to face. But maybe because here we can talk about anything people share their lives and experiences. We deep inside are one. Part of a bigger thing.

• Indonesia
13 Jan 09
Yes, I wouldn't argue with that, we are all the same and we are different in the same time. We are all the same, since we are all a human race, have the same physiology, have the same blood color which is red, and we are different because each of us have a different personality, have a different way of thinking, have a different look, have a different blood type and many others similarity and differences. It is just how the way you perceive the conditions. We are the alike in the sea of differences. BR.b

• United States
13 Jan 09
We are more alike than different. I am a different shade than you are but I bet some of the same things that urk me urk you. I bet you like some of the same foods I do. We already know you like posting on my lot, What a coinkydink so do I....See we are more alike than different. And here in the USA we do not know who is our cousin. Have you ever seen someone of a different race but American that looked just like our Grandma or Grandpa? Or heard someone laugh just like your Mom. Be cause of our history people had relations with everyone and we ar more alike than we know because most of us are family.

•
13 Jan 09
Hi Wheel416 commonality of the human condition .. hmmmm. we all share the building blocks like DNA. we all have the same emotional vocabulary. We have all felt loss,regret,shame,greed,lust,dissapointment etc. we have all felt joy,happiness,contentment,excitement,awe,relief etc. whats amazing is that from such similarities, such amazing varieties of human beings are produced!

• United States
12 Jan 09
I'll start with beliefs. We have some type of spiritual believe in which we seek hope and peace within ourselves. Call it any religion or just a belief. We try to seek a better life or happy life, even though we make mistakes during the process. I've been in different countries and when I'm there for the first time I think that their cultures and ideals are very different. At the end I end up noticing that human beings are just human beings and even in a different country you start noticing the same human paterns. Cosequently, I would say we are more alike than different.