Frozen spagetti sauce.

Canada
January 16, 2009 4:32pm CST
Okay so my friend recently looked at me like I was crazy. She was over for coffee while I was making dinner and when she saw me pull our a container of spagetti sauce from the freezer she made the "Yuck" face and are you crazy look. I am a little confused, am I the only person who knows that you can freeze this stuff? Are there any strange kitchecn habits that you havethat you know work but that friends think are strange? I'd love some stories.
10 responses

• United States
17 Jan 09
What kind of container of spaghetti sauce? A jar of pre-made stuff? I would say that's a little strange...not to mention I won't touch the pre-made stuff in the jar. Or are you talking about a container of spaghetti sauce that you made and froze? In that case, it's not weird and your friend is the one that is crazy. Sometimes I will freeze all kinds of things as I live in a rural area, can't get to the store whenever I want, and want to keep some things for later if I make too much.

• United States
17 Jan 09
I know a lot of people aren't familiar with the process of seasoning their pans. if you have a really good cast-iron pan that you have gotten good and blackened from many uses and the surface cooks your food to perfection......well I find that many of my friends happen to find it disgusting that I have a pan that I don't use soap to clean, just hot water.

• United States
18 Jan 09
Because of the irradick schedule of my family I often freeze meals that I have cooked ahead of time. So I often freeze both spaghetti sauce and the noodles together. I also cook up a good amount of ground beef for things like tacos, hamburger helper, hamburger biscuits and gravy, and chili. If I can cook it I figure I can freeze it. I make my own TV dinners too. WE heat them up slowly on the top of the stove.

• Canada
17 Jan 09
i grew up with my mother freezing spagheti sauce and i do as well now. she used to make one big batch of sauce every 6 months and freeze it. i think it's completely normal and works

• United States
17 Jan 09
I never thought of freezing spaghetti sauce before, but if it still tastes good then no worries :) There's plenty of things like frozen lasagna and frozen spaghetti meals, so I don't think its weird at all.

• United States
16 Jan 09
That is interesting that you freeze spaghetti sauce. I never freeze anything but vegetables, but my mom freezes her food alot. She doesn't freeze spaghetti sauce though. She'll freeze things like soup. I don't see anything weird about freezing that. You have actually given me an idea. Next time I'll just do that myself. Freeze spaghetti sauce.

• United States
17 Jan 09
Honestly I think she is crazy not to know that you can freeze sauce. I mean even if she doesn't cook; those frozen meals often have something with tomato sauce! I freeze just about anything. Best way to preserve food in my house. Ok strange habits .... I have zip lock bags in my freezer that I use for soup. As I prepare veggies I save peelings and other trimmings; I will even save some fruit parts. If there are leftover cooked veggies I will throw them in there too. When I open canned vegetables I drain them into my bags as well (within reason.... I'm not draining the beets into there etc) I also save the carcasses of chickens and turkeys. I use these things to make stock for a very healthy vegetable barley soup! I sometimes will freeze some mashed potatoes to thicken the soup with too! But I rarely have any to freeze ;(

• Singapore
17 Jan 09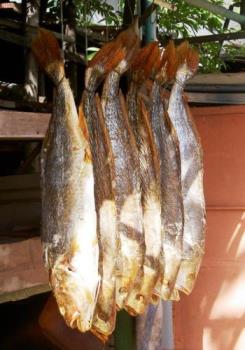 CRIVAS, Ha! Have you ever tried a Chinese delicacy called the oriental preserved salted fish? It is a common delight amongst the Asians especially the Chinese where they will eat it with plain rice porridge or congee. The sight could be ghastly acceptable but I cannot say much for the pungent
fragrance
which some have describe it as a well worn insole equivalent. And for dessert, a spiky sweet fruit called the Durian, which is succulent and sweet in taste. But the smell has the equivalent of your morning household garbage. I just wonder what your friend's reaction will be when she smells it and be told that that's what she be having for dinner.

I bet she will be swooning, what about you? Care to join me?

Bon Appetit


• United States
17 Jan 09
I always freeze Spaghetti Sauce. So I guess that makes me crazy too! LOL When I fix Spaghetti Sauce I always fix a double batch and freeze the second one. It comes in really handy when you need to fix dinner and are limited on time too. Just cook your pasta and heat your sauce and there you have it!